Readers Rides
Chevrolet Impala 409: Should Rare Classic Be Driven?
By
|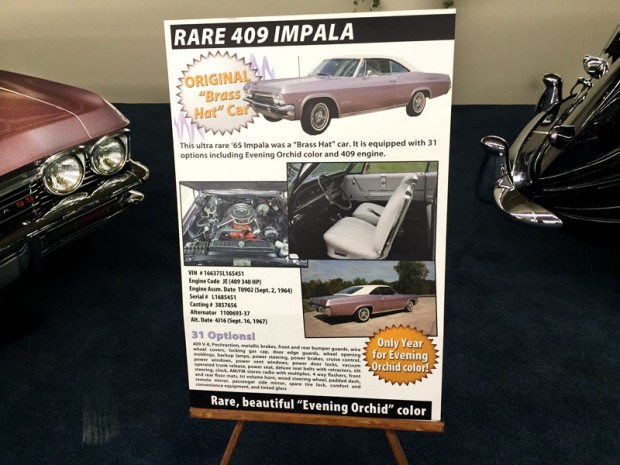 By Mark Weisseg
A dilemma. You own a rare vehicle worth more than 100k. Do you drive it or do you keep it locked away forever, for fear of the slightest damage?
I was in Las Vegas recently and went to the museum at the Linq hotel. It is on fifth floor and they charge to get into the display. I went in and enjoyed the collection as it rotates.
Some of the cars are for sale and others are not. I took plenty of pictures and here is one for the books.
Here is a Chevy Impala with a factory 409 with a load of options. An executive drove this monster daily at one point.
It had an automatic transmission and I was taken by that and the power vent Windows. Blow the picture up and you see 31 options. The car even has a vacuum operated trunk release. Completely unheard of back then. This car is not for sale, but if it was, someone would buy it right away.
The color was beautiful and the entire car was one for the classics.
I was glad some genius did not crush it as they do with executives or special coded cars. This car seems like it will spend its life in a place like this and will never see the road again.
That is a shame as a car like this ought to be out amongst the crowds. I am not a fan of parking a car under glass per se and never driving it again.
An example, I know of a guy that has a very rare Copo Camaro. So, he has a business and it sits in a building roped off. It's heated and of course has air conditioned but to my knowledge it does not move. It's his artwork and in his mind should not go out in the elements. Reminded me of a car show last year when I saw a trailer queen. Yes, another Yenko Camaro with a fresh restoration. The guys were very nice, but there was no way anyone was going to drive it in the upcoming future. I thought and believe it is a waste not to drive them and enjoy the car as it was built. Back in the day Detroit never built a car that they did not want you to drive.
How did we get to the point where you are afraid of a stone chip or such? I know if you have a car valued at 100K or more your sensitivities are higher but the car still has four wheels and we all know the wheels turn. Enjoy the car for what it's purpose was. This 409 was the first one I have ever seen and even though I enjoyed it I felt a bit sad. I wish this car and others like them were in the hands of a collector that of course loved them but drove them once in a while to share a car most will never see.
Most of the cars at this hotel had special meaning and I will share that in a future article. But, as amazing as this car is, I wanted to jump the rope and drive it. Sitting in that same spot being wiped down every week was not the intention. A GM executive drove this car every day and I will bet had more fun than we can imagine back in the 60's.
Now, the car is parked in a climate controlled building with only the ones who shell out money lucky enough to see it.
Lastly, I hope this inspires you to stop and see the collection if you ever get to Vegas. The collection is worthy of your time and money but I will bet you will wish some of these cars were being driven.
For all muscle car parts – http://fastmusclecar.com/muscle-car-parts/
Donate To Fast Muscle Car
We spend a lot of time bringing you muscle car content. If you would like to donate something to help us keep going, that would be fantastic.
Chevrolet Impala 409: Should Rare Classic Be Driven?

,