Best Muscle Cars
Chevrolet Corvette Meets The British Countryside
By
|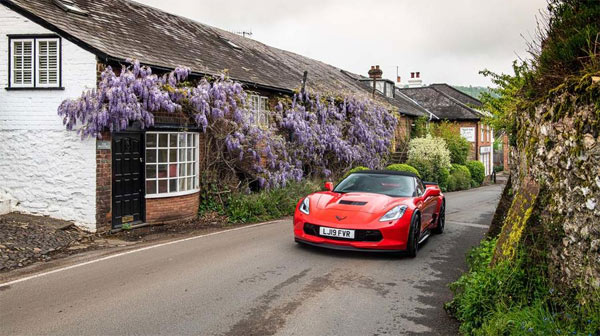 By Dave Ashton
Wot, wot, a spot of afternoon tea and a quick jaunt down country lanes is needed, but which automobile should I choose? That was the question posed by autocar.co.uk who decided out of all the cars available they would choose the quintessentially American Corvette Grand Sport.
A strange choice at first. A fish out of water, stranger in a strange land and all of that, but the Corvettes of today are equally capable or even more so than most sports or supercars at being all-rounders as we will see.
The task was to see if the Corvette was happy driving along country lanes, instead of blasting along motorways where it is seemingly most at home. This mission was also to catch the last hurrah of the C7 Vette before the mid-engined C8 model comes in and tries its hand in the supercar world. Other important points to mention is that the EU will be clamping down on emissions, which means Camaros and C7 Corvettes are unlikely to be sold from now on. In this regard Ian Allan Motors of Virginia Water, UK, snapped up 60 Corvettes and Camaros to supply the UK market, from which the test Vette came from.
The test Vette used was a red convertible automatic C7 – a Grand Sport coupé. The route taken was Brooklands Museum to Brighton via country lanes only. Terrain which you may think is only applicable to an E-Type Jag. or Morris Minor, not a brash American V8. This supposedly load yank has 466bhp, but the point here is not to size up power levels, but to measure, 'the emotional appeal of cars like this and the sense of occasion.' Equivalent European sports cars like the AMGs, BMW M cars and Jaguar F-Type SVR may have more power, but the 'Vette is lighter at 1562kg which means it can serve up its engine quota with cucumber sandwiches to spare.
The main takeaways
After exchange rates the Grand Sport convertible comes in at £90,510. That's cheaper then a 911 and factoring in ongoing servicing and replacement parts, becomes even more affordable. It's also about the sound. The old-school pushrod motor is quoted as sounding better than the Ford Mustang V8. The Mustang is selling very well in the old world, a welcome alternative to the usual crop of sports cars. Which means the 'Vette could have a chance of taking a slice of the sales pie.
As quoted from the article about the 'Vette, 'a car that oozes character and doesn't have to be driven fast to be enjoyed.' Cruiser, sports car, daily driver, that seems to be the takeaway from the modern 'Vette.
How the upcoming C8 will come across we will have to wait and see. Mid-engined is the sign of a modern high-end sports cars and C8's could be built in right-hand drive, thus definitely appealing to customers across the water.
Donate To Fast Muscle Car
We spend a lot of time bringing you muscle car content. If you would like to donate something to help us keep going, that would be fantastic.