Muscle Cars
Making Friends At Car Shows
By
|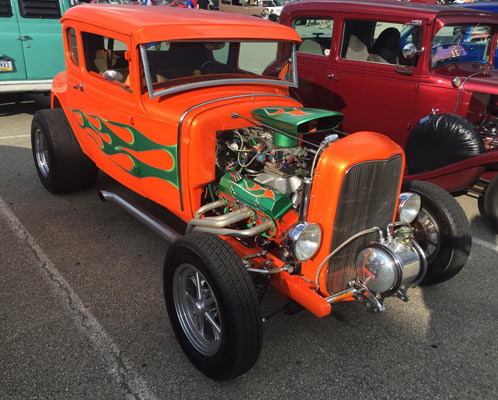 By Mark Weisseg
It all started earlier this year at my very local car show. I met a man named Jack and we became instant friends. He is a bit older and wiser than I but for what ever the reasons we hit it off. I promised him a while back I would attend one of his local car shows and this Saturday afternoon was the big day. I took the new Shelby out there with excitement in my bones not just to see him but the wonderful lady of his life.
We were met with an unexpected gift they had purchased for us and the night was off and running. Soon, many of their friends showed up ( some I have met before) and before I knew it we were surrounded by the nicest people. Jack's son Todd was there and before we knew it we felt like family. I kid you not that within an hour or so we were among a large group of friends.
The car you see in the picture belongs to Jack and his son if you were wondering. At times I would get up and walk around because many of the cars and trucks there were new to us. You see this location is east of the city and like many, people stay local. Quickly I realized some amazing cars. A real Hemi GTX, a real 32 Ford hot rod, pick up trucks, Corvettes, Mustangs and much more. I looked them over and took pictures. But, what I really wanted to do was go back to the group as they were so much fun.
I returned to my chair once and someone in the group put a new T shirt on my chair as sort of a" welcome to our world" gift. The time went to fast of course for all of us. The group was headed to dinner and invited us to go. In normal circumstances we would have gone. However, I am on the rebound from an eye injury that was causing me much discomfort. So, we jumped in the Shelby and headed home.
We talked about the cars for a little bit but generally our 40 minute ride home was all about these wonderful people. Everyone has a story in life and these folks are no exceptions. Our lives are enriched even more now that we are friends with all these car lovers. To think it all started when I backed my 49 Chevy truck into a parking spot at my local show. I met Jack there and I feel like I have known him for years. When I met Helen, the lady that shares life with Jack I felt a bond that I knew could never be broken.
So, many of you may think going to a car show is to show your car off and answer some lame questions. I am asking you to open your mind and heart and be happy, outgoing, and pleasant. That is how Jack and I became friends. A simple gesture by both of us has developed into a strong bond. We laugh, joke around, and yes at times get serious.
We may have never crossed paths if it were not for a car show. That lone event has benefited us greatly. The new friendships are humbling. We somehow wished the clock would have gone slower Saturday evening but it didn't. But, that just gives us more chances to get together. Eventually the leaves will turn and fall to the earth. The snow and cold will be our norm for a few months as our cars sit in storage and wait for us. But, the weather will not stop us from getting together with our new friends. All this good fortune for us from a simple gesture at a car show. I hope you take heed of this short story and make a new friends at car shows yourself. Your life will be forever changed in a positive way.
More Muscle Cars For Sale – http://fastmusclecar.com/muscle-car-for-sale/
Donate To Fast Muscle Car
We spend a lot of time bringing you muscle car content. If you would like to donate something to help us keep going, that would be fantastic.
Making Friends At Car Shows

,