News
The 2018 Dodge Challenger SRT Demon Is Finally Revealed
By
|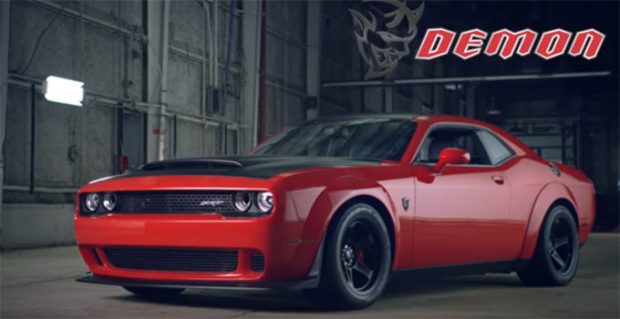 By Dave Ashton
Finally, the 2018 Dodge Challenger SRT Demon has been unveiled at the New York Auto Show and definitely doesn't disappoint. The Dodge website has put all the facts and figures together making a clear statement about the power of this new beast.
The Live Reveal

The highest horsepower, the highest GeForce, world's fastest 0-60mph and quarter mile time and first wheelie by of any production car. And that's just for starters. Many of the rumors running up to the release of the Demon seem to have come true, but the biggest question was what was going to be under the hood.
The Demon will house a Supercharged 6.2L HEMI® SRT Demon V8 engine with 840 HP and 770 pound-feet of torque, with a functional Air-Grabber™ hood scoop. This gives a NHRA certified 0-60 mph time of 2.3 seconds and a quarter-mile time of 9.65 seconds straight from the factory.
There is also a 2.7-liter supercharger running at 14.5 psi. of boost, twin dual-stage fuel pump and plenty of engine upgrades such as pistons, valvetrain and strengthened rods.
Air intakes are covered in numerous ways from the Air-Grabber, which is the largest on any muscle car and a second intake inside driver's side headlight and wheel liner. The Demon also makes use of the air conditioner system by dropping the temperature of the air by 45 degrees before going into the cylinders.
The rumors of weight saving has also come true with 200 pounds being saved in weight. Lightweight components such as aluminum brake calipers have been used and ripping out things such as the speaker system and carpeting to save weight.
The car can run on either 91-octane fuel or 100-octane race fuel to get full power, with internal switching and pumps for each fuel type.
The transmission is an eight speed automatic, which has been re-engineered from the Hellcat going through to a hardened driveshaft, rear axle and larger half shafts. This is all fed down to 12.6-inch-wide Nitto drag radials.
The internal electronics have also been updated with a line lock system, steering wheel paddle-activated transmission brake, a traction control system to counter wheel hop plenty of information feedback on reaction times. All this power and electronic trickery will even allow the Demon to pop a wheelie on launch.
The single seater option has also come true. You can get a passenger seat and rear bench along with an audio system if needed. The other options also include the 'Demon Crate' which is packed with Demon goodies such as hydraulic floor jack, front-runner drag wheels, cordless impact wrench and plenty of other Demon-branded accessories.
One report by Car Throttle, says that the American National Hot Rod Association has already banned the Demon from competition for its 9.65-second quarter-mile time. We would like to see if this is verified or not.
The Dodge Demon has worked out to be one of the most unique muscle cars of our modern age, nothing being offered since the drag racing specials of the classic muscle car era. 3,000 Dodge Demon's will be made available for sale in America with 300 for sale in Canada. This will include a day at the Bob Bondurant School of High-performance Driving. With all this power and performance, the car is still capable of being licensed and driven every day.
If you've missed any of the previous teaser videos you can find them here.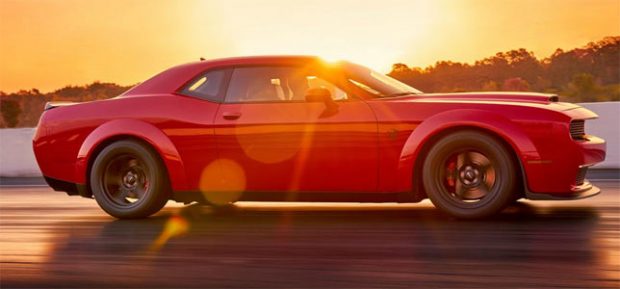 Check out our Muscle Car T-Shirts! – http://fastmusclecar.com/muscle-car-t-shirts/
Donate To Fast Muscle Car
We spend a lot of time bringing you muscle car content. If you would like to donate something to help us keep going, that would be fantastic.
The 2018 Dodge Challenger SRT Demon Is Finally Revealed

,