Best Muscle Cars
1971 Oldsmobile 442 Convertible 455
By
|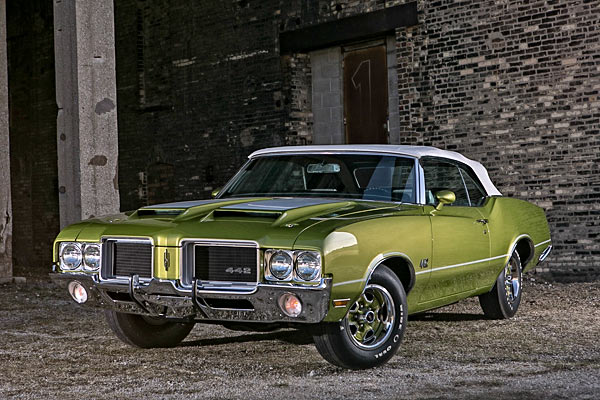 Engine: 455
Price: US $77,000.00
Buy Now On Ebay.
HISTORY
This car was a demonstrator for awhile at Hippodrome Olds in Nashville TN. It was purchased In September of 1971 by Lloyd Esmon and was built late (july 23rd 1971). He had been looking for one and a few days after visiting the dealership his salesman had called to say they had one to sell. Don Deathridge sold the car to him for $4448.59 after fees and discount. (This is one of 1096 convertibles made this year).
Lloyd drove the car until the late 70's and took good car of it and recorded all of its oil- gas fill ups along with the gallons used and the price of gas at the time. I have those little record books. He then sold it to a cousin in Il. Vern while in IL had the car painted once in the 80's in a shade of green not quite like the code 43 lime green it should have been. It never saw a winter while in the Midwest. Later Lloyds son Dwight purchased the car and it moved to FL. It had been cared for there until about 2005, had the engine rebuilt and it was then that it went up for sale for the first time out of the family.
I purchased it from the 4th owner and he had made some motor improvements but always keeping the original parts and original motor-trans intact.
MY OWNERSHIP
I have owned the car since 2008. It was a car show, cruise night car for us. It was then in late 2011 I
decided to go all in and give it a proper restoration. I am a stickler for quality and correctness and almost all the work was done by myself. It received a full frame off restoration spanning 11 months and nearly 800 hours. (keep in mind this was a rust free car). It is pretty neat when I tell people that all 5 owners of this car including #1 are still with us.
RESTORATION
During the restoration, I bagged and tagged everything. The factory would grab nuts and bolts at random during the build process and this car retains all of them. I also write down where they all go as the order they were installed. Several fastener companies were used and I made sure I left all the different marked bolt heads as they were and they all were restored or replated in their correct finishes.
As parts were taken off I documented the various inspection marks and colorings on different parts. All cars were different and humans made those marks. Every car I restore turns out a little different because of this. Remember there were many different plants and shifts of people doing the build process so not all had the same marks.
The car was spared of no expense and detail. When working on such a pristine car and have no rust pits to fix, the end result is stunning. The frame is pit free, as is suspension components. The floors still have the runs and body caulk that was applied originally. On a car this nice I am able to keep all those things that are only correct one time in its life. I even made a batch of body seam sealer to match the peach colored body plug caulk. some cars had this color and others I have had used the light green variation.
The car is arrow straight and was blocked out more times than I can recall. The Sherwin Williams base/clear paint is far nicer than they were then, the trunk has the proper trunk spatter as the Lansing plant applied. All the sheetmetal on the car is original to it. I used photos I take from original paint cars to document the proper side pinstripes and I was also able to measure off of the original stripes I un-earthed while stripping the body to bare metal.
I did add the ram air hood though. I found years ago a hood that had been a take off of a 1971 cutlass in 1979. It was the most pristine original paint hood I have ever seen and I saved it for this car. Original perfect hoods are second to none and this one I carefully restored to be as close to authentic when I restored it. There were no stress cracks anywhere and I left all the areas white that you can see from the bottom white. These top skins were white and then bonded to the painted black bottoms. I duplicated the dates and inspection marks along with the proper assembly line overspray technique. A close look at the photos show that no part or fastener on this car was left alone.
DRIVETRAIN
The block, trans and rear (now a 3:42 posi) are original to the car. Prior to me owning it, the 4th owner decided to spruce it up a bit. The car runs so incredible and quick, I made a tough decision to leave all that hard work and $$$ alone. While stock appearing the car is using a set of edelbrock heads, intake and carb. It has a bunch of mondello receipts to back it up. It idles healthy, starts right up and it has enough vacuum for power brakes. It is not radical at all but definitely healthier than a normal '71 455. I do have the original heads and intake but the carb is gone. Due to the intake, I display the OAI plastic top at shows but need to remove it for driving. It is an inch higher and it causes some interference when the hood is closed.
Transmission was gone through, resealed and factory markings were re applied as they were found. Mechanically speaking, the car doesn't need anything.
OPTIONS
Car was not ordered with many options. On the window sticker it shows, auto transmission, power steering, power disc brakes, a/c, tinted window, am radio, door guards, deluxe belts with rear retainers front mats and the light group. The car has all of the 5 original SS3 wheels. Car also has a seldom seen front air deflector re-inforcement. It can be seen in the photos and is rumored to be only on 71 4 speed cars. I have spoke with the past owners and even Lloyd had said "why would I add that as I don't even know what it is?"
A NOS heater control valve was used as it is a 1971 only style with the vacuum diaphragm on it, and although it is not an option it was added to make the car even more correct. The am radio was replaced with a rebuilt am fm unit with modern internals and a Sirius radio located in the ash tray area if one decided to start using the car as intended. I still have a set of reproduction kick panels with the speakers built in if one would choose to used the radio. The A/C system was blowing ice cold prior to the restoration and was converted correctly to 134. It has not been charged since the car has not seen much road use. Rally pac and gauges were added by previous owner.
INTERIOR
All the interior was in good shape but with the level I was going for with this car I turned to Legendary for it all. I kept all the original covers and door panels. I was able to keep the original carpet. Nothing fits better than the original and it also proves how the car was cared for.
Some pictures show how nice the floors are with all the lime green paint on them and again I left them as is because there was no restoration needed to cover anything.
BODY
As stated before all the sheetmetal is original to the car and I added a few pictures of the bare floor areas to show indeed how nice they are. The trunk and floor pans did not have as much as a pin hole. Be confident knowing that this is not one of those cars that needed wheel tubs, quarters, donor doors and fenders and a full trunk pan. Actually one lower fender needed a patch about the size of a half dollar.
GLASS
Every piece of glass is original. The windshield has a couple small chips but to me I'd rather say that it has never been out. all side glass is nice, date coded and line up as they should.
BUMPERS
Show chrome and replated bumper guards with new rub strips. All hardware,rear light housing guards, front marker lights and wiring was plated and cleaned to perfection.
TOP
New top, pad and well liner. Legendary boot goes with and the top has yet to be down due to the car's show circuit condition. Top will move up and down as it should if one decides to do so.
TRIM
All trim is original and has been polished to a high standard. Some original screws had to be sourced due to age but the proper clear plastic washers were used when necessary like the originals.
TRUNK
During the restoration I had found a way to duplicate as close as possible the way the original spatter was applied. It was originally done quickly with mediocre coverage at best and each car was different. Each plant seemed to have either a different layout texture, color or pattern. Assembly line guys I've talked to over the years said that there were different vendors for these paints and they just
used whatever they had. All lansing cars I have found have this style of big spot patterning and is an often missed step in a nice restoration. Jack has a very nice mast with its correct plating intact and the other pieces were restored properly.
PAPERWORK
Lloyd kept good records. The car has the auto log books as previously mentioned. It has its original window sticker and dealer copy of that sticker. It has 2 buyers invoice bill of sales, 1 typed and 1 hand written. 2 broadcast sheets and one production code sheet along with various cancelled check receipts to the dealer. No lansing build cars ever got a big build sheet, that is why other supporting documents are so important to have. I see soo many cars advertised or at big auctions that have had options added or sit there with not an ounce of paperwork.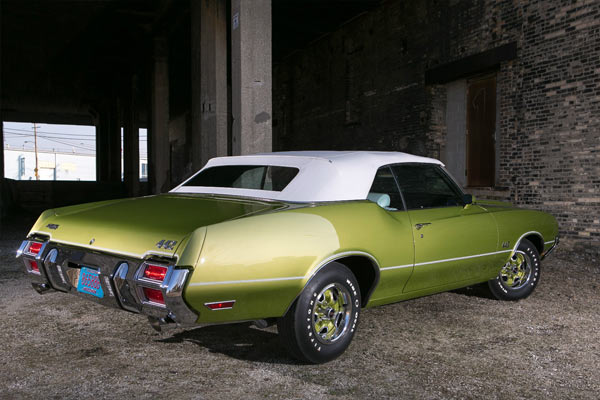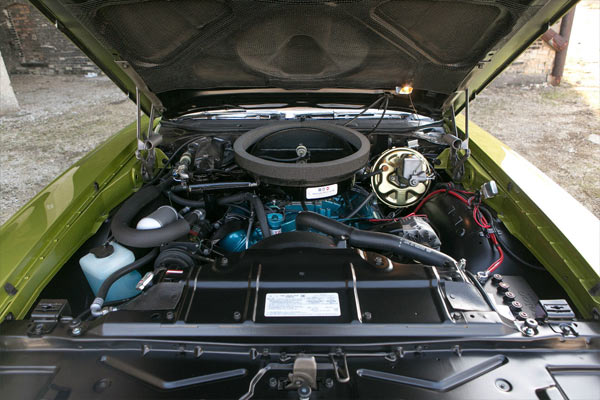 Buy Now On Ebay.
More Muscle Cars For Sale – http://fastmusclecar.com/muscle-car-for-sale/
Donate To Fast Muscle Car
We spend a lot of time bringing you muscle car content. If you would like to donate something to help us keep going, that would be fantastic.
1971 Oldsmobile 442 Convertible 455

,