Best Muscle Cars
This 1969 Mustang GT Build Is the Feel-Good Story of 2017
By
|
By Scott Huntington
It's been one heck of a year. We've had more than enough sad stories and unhappy endings to go around, so you might be hard-pressed to find a feel-good story to help turn around your year's end blues. Well, you're in luck, because we've found one for you.
This is the story of Nino — a special little boy with a rare disease — and his Mustang.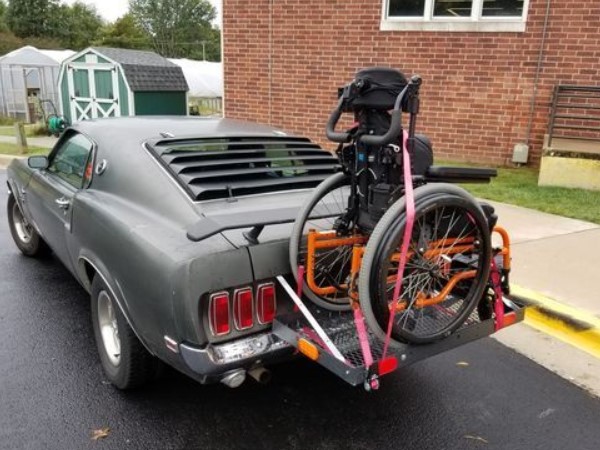 Nino's Mustang
Nino is a seven-year-old boy who loves Mustangs. He loves them so much that for his birthday this year, his grandfather gifted him with a restored 1970 Mustang Mach 1 painted orange and black. Nino will probably never be able to drive the car, though — he suffers from Lesch-Nyhan syndrome, which impedes his motor functions and confines him to a wheelchair. But he loved it nonetheless. He even named his wheelchair the Mach II, in honor of his car.
Until someone decided to set his Mustang on fire in July — a mere two months after he received the car as a gift. An unnamed (and, as of yet, uncaptured) vandal popped open the small back vent window and threw fireworks into the car's interior.
Once the flames had been extinguished, the original goal was to try to restore the Mach 1 to its original glory — a task that ultimately proved impossible. Thankfully, Nino's community came together to help make a little boy's day.
The Replacement
When the news broke that Nino's Mach I had been destroyed, everyone came together. He was gifted Mustang-themed hats and shirts, die-cast Mustang toys and even a car rally thrown in his honor. The best gift, though? A 1969 Mustang GT. It might not be a Mach 1, but Nino's new GT is definitely an amazing alternative.
The car itself still needs some work. It will keep its factory gray color and will feature the front bumper and the Magnum 5 wheels that survived the inferno that consumed the original Mach 1.
The money the family raised to repair or replace the Mach 1 will now go toward the rebuild and renovation of the GT. They even plan to build a dummy console for the passenger side of the car so Nino can enjoy the experience of driving his favorite car.
Wishes Can Come True
This isn't the first time a Mustang has been at the core of someone's wish. The Make-a-Wish foundation recently helped to make a restoration dream a reality for a 19-year-old with T-Cell lymphoblastic lymphoma. His wish? To have his 1970 Mach 1 completely restored.
Whether you want to restore a car or just make someone else's dream come true, this is the perfect season to do so. Nino's story just goes to show that no matter how bad the circumstances are, there are plenty of people who are willing to step up and offer some help. Nino's new GT is living proof of that and we can't wait to see it when it's finally done!
Donate To Fast Muscle Car
We spend a lot of time bringing you muscle car content. If you would like to donate something to help us keep going, that would be fantastic.