Readers Rides
1966 Oldsmobile Toronada
By
|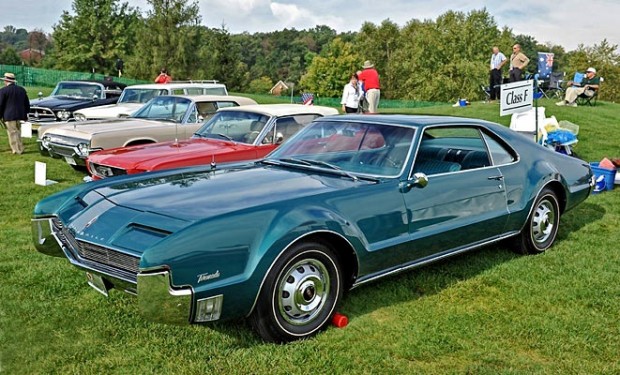 By Mark Weisseg
I was reminded of this car recently and thought I would give you something to chew on. We all seem to think of classic fast cars in the same way. But, I recall as a boy a friend of the family having one of these cars and we didn't know what to make of it.
It was a big car and it was sort of odd looking. If you opened the door you would see this very unique dashboard and console. Most of these had leather seats and all had automatic transmissions.
What is so cool about this model is the following for all of you that may not remember. First the car was front wheel drive. Yes, way back when dinosaurs roamed the earth in 66 this car was front wheel drive. The second item that stands out is the car had a 425 V8 under the hood that you could spin the front tires on take off. Also, the cool hide a way headlights actually worked.
However, when I was working on these and the Cadillac Eldorado back in the day they had these odd wheels from the factory. The typical Coats 40-40 tire machine was not adaptable for these odd wheels. One would put the wheel on the machine upside down to break the seal on the bead and then turn the wheel over and break that side seal. Meaning, you took the tire off the wheel backwards of all other makes. And, when we did alignments it really was one of the first cars that we had to consider doing a four wheel alignment. Most cars in that time frame you worried about tie in and out and possibly a camber adjustment on the front end. This car required you to take in account all four wheels. This was way ahead of the time and it was a pain. Obviously today tire machines are slick and nothing touches the wheel. The alignments also are high tech today with laser beam alignments that always consider all four wheels. Heck, I saw a guy back then back the Olds on to the old Hunter machine and set the rear toe and the drive it off the rack, turned the car around and then did the front end.
Now, we all know Oldsmobile and Pontiac are no longer with us and the Cadillac of old is now more. Caddy saw changes in the wind years ago and adapted or they to might be gone.
Rarely do you see these Tor a nad o's as we called them at a car show. They are rare and unique cars. In some ways ahead of there time and in others a royal pain in the rear end and I mean yours! The cars rode well, did great in snow and were just different from the standard rear wheel drive of the day. I can recall living in the snow belt and during training being trained never to put studded snow tires on the front because in dry weather they would spin or slid easily.
One short story here is I wish I had a buck for every time we installed snow tires on the front of the early models. Customers would call us back and have a fit that we were so stupid to put snow tires on the front. We were always flabbergasted how many people bought certain cars without a clue what they were getting. A friend of ours back in the day sold cars in the sixties and he recalled how many people would come into the showroom, like a car on the floor, and say they would take it. Full sticker price plus tax! These cars were not cheap back in the day and that is in part why they faded away. Pricing was higher and certainly the odd styling back then spooked some away. Today, if you study this car the sweeping lines are really inspiring.
I admit I did not like the car back in the day but as we have aged together I came to like these cars for the performance car it was.
More Muscle Cars For Sale – http://fastmusclecar.com/muscle-car-for-sale/
Donate To Fast Muscle Car
We spend a lot of time bringing you muscle car content. If you would like to donate something to help us keep going, that would be fantastic.
1966 Oldsmobile Toronada

,