Video
World's Fastest 1,035 HP Dodge Demon
By
|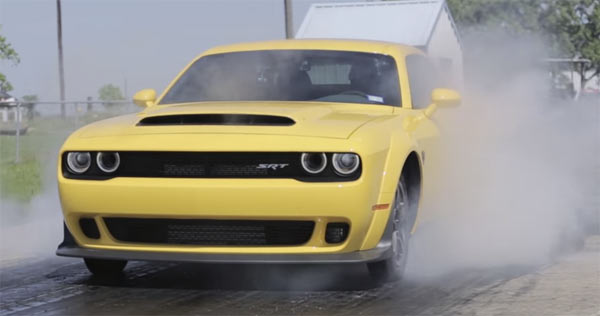 By Dave Ashton
The Dodge Demon is clearly the most potent modern day muscle car with 840HP from the factory, already coming with some mind bending statistics. But this isn't enough for tuning outfit Hennessey who've now cranked up the Demon to 1,035 engine HP, 880 Rear Wheel HP and a quarter-mile time of 9.14 sec @ 152 mph.
The video below shows you the record run from multiple angles and what's especially cool is the Accutime slip at the end of the video with the data from the run. The upgrades made to this Dodge Demon can be bought directly from Hennessy as a tuning package, if you're one of the lucky ones to got your paws on a Demon in the first place.
It's great to see that the most powerful modern muscle car can be made even more potent, but as the Demon is such a limited edition model would you mess with its originality, especially so much power already on tap? We mentioned in another article, how the Demon hit 203mph in stock condition and with a few engine tweaks and the wind blowing in the right direction, you're still going to get an impressive quarter-mile time.
As a test of what an upgraded daemon can do in the wild, this is still an impressive run and there will always be a few who still want more power from the beast. If you do own a Dodge Demon and want the Hennessy upgrade package, it includes the items below –
Stainless steel long tube headers with high-flow catalytic converters
• High-flow upper supercharger pulley upgrade
• High-flow lower crankshaft pulley upgrade
• HPE engine management upgrade & chassis dyno calibration
• Professional installation
• All necessary gaskets & fluids
• Chassis dyno testing. You'll receive a before & after dyno graph report showing power and torque measured at the rear wheels
• Road testing (up to 200 miles)
• Hennessey exterior badge (rear)
• HPE1000 Powered by Hennessey badges (side & rear)
• Hennessey HPE1000 serial numbered plaque (interior)
• Hennessey HPE1000 serial numbered plaque signed by the HPE technician who builds you car (engine bay)
• 1 Year / 12,000 mile limited warranty. Contact a Hennessey Performance sales associate for more details.
• Call Hennessey Performance for pricing and turnaround time details
More Muscle Cars For Sale – http://fastmusclecar.com/muscle-car-for-sale/