News
Incredible General Lee Dodge Charger AirBourne Stunt
By
|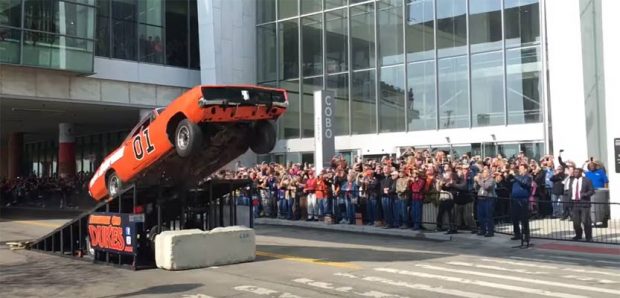 By Dave Ashton
The original Dukes of Hazard TV show had plenty of airborne stunts with their ubiquitous Dodge Charger, but it wasn't very often the car was shown taking off and landing at the same time. This stunt performed at Detroit's Autorama hot rod show gives you a close-up and personal view of this amazing stunt with the Dodge Charger catching some serious air.
Raymond Kohn Was the driver of the 1969 Dodge Charger in a mocked up race, which included Hazzard County police. The General Lee Charger reportedly hit the ramp at 55 mph and flew through the air 25 feet before going nose first into the road. The landing looks quite bad, but Kohn was fine after the stunt enough to also give an interview as seen below.
The specific car itself was made to handle the jump and the landings, along with absorbing most of the energy from the impact, but as you can see an impact like this means the vehicle can only take one or two dives before being retired.
In the original TV series the vehicles were heavily weighted down in the rear to stop such nosedives, but having such a huge engine block means an inevitable nosedive is always going to happen. Still, a fantastic stunt all round.
For all muscle car parts – http://fastmusclecar.com/muscle-car-parts/