Video
Hennessey's Exorcist Camaro Beats Dodge Demon Quarter Mile Time
By
|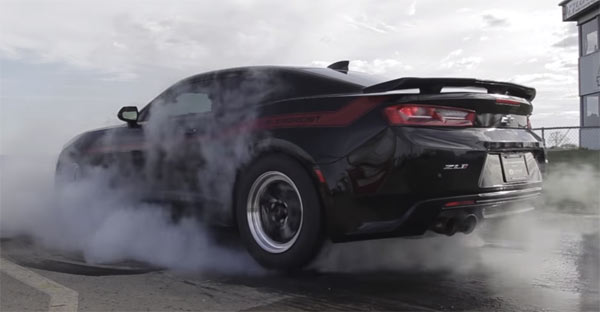 By Dave Ashton
The run-up to the release of Hennessey Performance Engineering's Exorcist Camaro was touted as one thing and that was to beat the Dodge Challenger Demon in the quarter mile. This video shows the vehicle producing a 9.57 @ 147 MPH quarter-mile time, with 60 mph done in 2.1 seconds and 100 mph in 4.7 seconds. Compared to the Dodge Demon which can do the quarter-mile in 9.65 seconds @ 140 mph and 0-60mph in 2.3 seconds.
The Exorcist Camaro has 1,000 horsepower, with 959 HP at the rear wheels with a top speed of 217 mph. The Demon on the other hand, has 840 horses with a limited top speed of 168 mph. So, all the figures add up to the Exorcist Camaro outperforming the Demon, which is great for Camaro fans and Dodge Demon dissenters but it's unfortunately comparing apples to oranges.
The Dodge Challenger Demon is a factory built car and its power comes out of the box, the Exorcist Camaro is an aftermarket upgrade. So if you want to compare upgraded vehicles against the Dodge Demon, you might as well take any vehicle that is currently flying down the dragstrip with top end parts and over 1,000 horsepower and compare the two. Hennessey are already offering upgrades to the Demon, which will bring its power to 1,000 and 1,500 HP which may very well come back and beat the Exorcist. The Demons price comes in $85,000 from the factory, while the Exorcist Camaro starts at $117,135, including a donor Camaro ZL1, road-race pack, drag package and automatic transmission as additional costs.
More than anything the Exorcist Camaro is a vehicle, pardon the pun, for Hennessey to show that they can top the power and performance of other top vehicles out there with their builds and upgrades, the Dodge Demon being the closest rival to the Camaro that would get people's attention. A great piece of marketing and why not from a top tuning outfit who can take a top vehicle and make it even better. This means that the Dodge Demon still holds its place as arguably the best modern muscle car which comes straight from the factory. Yes, it's very specialised and its performance figures can be beaten with a wealth of upgrades on another vehicle. But the Demon still stands for a factory built muscle car that can be taken straight to the dragstrip, just like in the old days.
So the conclusion is that the Exorcist Camaro can produce a better quarter mile time than the Dodge Demon, but it does need upgrades to do so. Better to just show off the Exorcist Camaro as a shining example of how modern pony/muscle cars can be just as good or more exciting than any other top vehicle out there. These days, it shouldn't be muscle car versus muscle car, it should be modern muscle car versus the rest of the world and be judged on that platform. That's a more interesting proposition…
More Muscle Cars For Sale – http://fastmusclecar.com/muscle-car-for-sale/