Best Muscle Cars
Camaro, Supra And Badass Mustang In Wild Street Race
By
|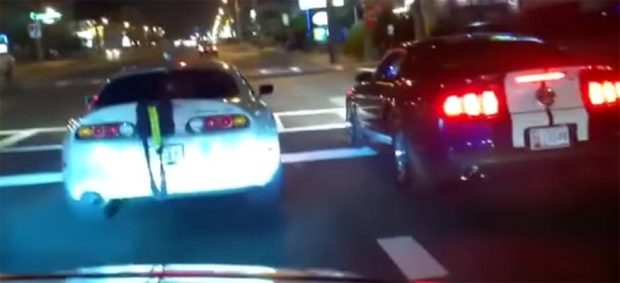 By Dave Ashton
It's unclear if this was a preplanned race or an impromptu lineup of three performance vehicles, but anyway you look at it this street race is a short but adrenaline filled ride. What's even better is the vehicle lineup here, which consists of a Camaro, Supra and Mustang, unfortunately, no specs given for each of the vehicles. The lineup however does give what we like to see best, some American muscle going up against some Japanese finest.
It might seem a bit one-sided having two of America's finest sandwiching in the Supra, but all three exhaust notes together and the quick blast off the line provide a great spectacle in this video.
Check out this little clip and share it around as it's definitely worth a watch.
More Muscle Cars For Sale – http://fastmusclecar.com/muscle-car-for-sale/
Camaro, Supra And Badass Mustang In Wild Street Race

,