Readers Rides
The Car Show Blues: Keeping In Touch Year Round
By
|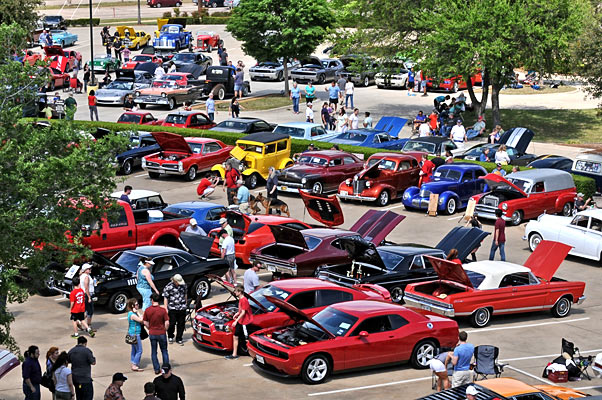 By Mark Weisseg
If you live in an area that brings snow, more than likely your classic is parked now until next year. That is a hard thing to swallow, – next year. If you live in an area where the snow will not fly I admit I am jealous and hope to join you someday soon.
If you have tucked your muscle car baby away for the cold months, I hope you do not do the same with your car friends. I heard some guys at our last show saying goodbye to one another and that they will see them next year.
Huh? You live in the same area, park your cars side by side every week, talk endlessly about cars but only from Memorial Day to Labor Day?
That seems stupid on the surface to think you have a part time relationship only because of your car.
I implore you to do no such thing. Pick up the smart phone and use it to call or text your friend(s) and maybe get together for lunch or possibly dinner. In the winter in the cold cities there is always some sort of car show to break up the monopoly of lousy weather. These are good reasons to get together and stay close year round. Remember you could ask them over for some holiday cheer or to watch a football game or another over priced car auction on Tee Vee. But, to say goodbye until at least April 1st of next year to guys and gals you stuck shoulder to shoulder with during car season is goofy.
Let me give you one more example of staying close in the 'off' season. I mentioned to one of my car buddies we were off to Chattanooga TN to be a part of an Ironman competition.
Immediately my friend asked if I would mind stopping into a pinball store down there for us to check out a rare machine for him. Of course we obliged and in turn got to talking to the owner of the place.
He had a Shelby Mustang parked out front and proceeded to tell us if we drove a few miles down this road and made a left there was a guy that had a whole bunch of Mustangs from new to old parked in a lot and some were for sale. Whooooosh and off we go as this is just to juicy to pass on. We arrived on the scene in ten minutes and view the collection. Certainly the guy has many Mustangs in various stages of repair but nothing that interests us enough to inquire any further.
My point is simple of course. Stay close with your (car) friends year round from the car show circuit and by all means do not brag about any upcoming travel plans. But, if I had not brought up ours we never would have met this guy who had hundreds of pinball machines and a lead on Mustangs.
It was a pleasure doing a friend a small favor but we were the ones that benefited more by just being a good friend at the end of the season. From here on out the season will never really be over for us. Just change a bit until the warmth returns and we crawl out from under our winter shell.
Remember, a car friend is for life, not just for summer!
More Muscle Cars For Sale – http://fastmusclecar.com/muscle-car-for-sale/
Donate To Fast Muscle Car
We spend a lot of time bringing you muscle car content. If you would like to donate something to help us keep going, that would be fantastic.