Readers Rides
The Importance Of Muscle Car Variety.
By
|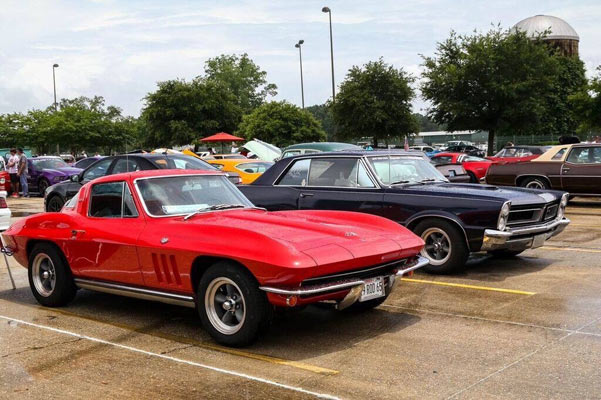 By Mark Weisseg
You see them all year, every year at car shows. Different brands, models, makes, colors, styles and so on. You could get dizzy looking at times. Sure the car shows have more Camaros, Mustangs, Corvettes, and Chevelle's it seems than any other make but, what makes one guy think his 1975 Grand Prix is better than another guys '67 Corvette. Or the other way around?
How boring would a show be if all 275 cars that showed up were all Pontiac GTO's just painted different colors? At times that is what is happening now. I have poked around many car shows in my time and of late I see a lot of Challlengers, a lot of Camaro's and a lot of Mustangs and I mean a lot.
A guy shows up in a '61 Chrysler Imperial and everyone stares at him like he is nuts. When you study the very popular cars, it comes down to low mileage and condition. I have a friend with a 2003 Shelby and he has like three thousand miles on it. He is proud of that where as I would be ashamed of it. It means he never drives it. Why buy it and never drive it? I mean it's not a complete rarety that is one of ten made afterall. Don't even get me started on trailer queens unless it is a car unlawful to drive on the road.
Two years, my brother and I went to the convention center at SEMA ignited as they were having an after hours party at the LINQ hotel parking lot.
The police were all over the place and if anyone left the 'approved' parking lot and did a burnout, a motorcycle cop would race after them and ticket them. Same with the custom motorcycles. We even saw Farmtruck and AZN leave and get pulled over down the street for what I guess was a jack rabbit start or pipes too loud. It ruined the exit.
However, there were loads of different vehicles and variety is the key.
It's far too easy to poke fun at a different makes and models, but ultimately, that's how we get inspiration. Seeing what everybody else is doing. If we just had one make and model of car, the world would be a very boring place.
More Muscle Cars For Sale – http://fastmusclecar.com/muscle-car-for-sale/
Donate To Fast Muscle Car
We spend a lot of time bringing you muscle car content. If you would like to donate something to help us keep going, that would be fantastic.