News
Shelby of America in Trouble?
By
|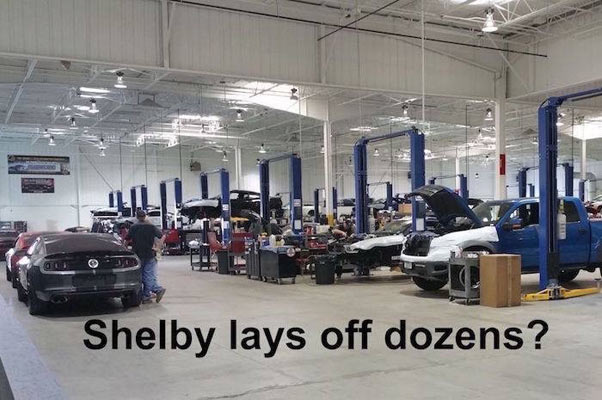 By Mark Weisseg
Last night a bulletin came across to me that the first ever A/C Cobra was going to auction this fall. What? That is the first AC car. We have been told for years that 20 to 25 million would not buy it. Heck, it's the star attraction at the Shelby museum in Las Vegas. I have seen the car several times. Without that car all they have left is a bunch of other run of the mill Shelby's lined up for either display or sale. There is a gift shop full of stuff like Ashtrays, T shirts, coffee mugs and so on. Then, the highlight was to be the shop where they did all the switch overs. Meaning, take your 2010 Mustang and build it into a beautiful Shelby with better brakes, steering and of course more power.
There was a problem however. The last time I was there with my brother we stood at the glass and watched the shop.
Both my brother and I worked in many shops over the years and we both noticed something right away. Snails. Yes snails in Las Vegas. If these guys and gals in the service department moved any slower they would have fallen asleep standing up. I told my brother I would be ticked off if I brought my car here and was told it would take six months or so do the switch. Nobody and I mean nobody broke a sweat. For a while we could not see anyone at all. It's a big building but how can you stand there for ten minutes and not see a single person. There were of course Mustangs and Ford Trucks on the lifts and on the ground but nobody was working on them. Where the heck was everybody? Finally a few stragglers came in and started digging in there tool boxes and walked to the cars and trucks. My brother and I were in shock. This is no way to run a service department. You need to stay busy, have flat rate times, get motivated and get a job done to move on to the next task. We saw none of this happening.
My gosh these guys were slow, unmotivated and we were in disbelief. How can this be? The building is new, clean and very large. They give excellent guided tours for free and it appears they had plenty of cars and ford trucks to convert. But, if they work at that pace the service department must lose there ass.
Cost factors
Now, the other issue is cost. The average cost to convert is $45k and that is on top of what you paid for the car. The other factor is you can buy direct from Ford a very bad ass Mustang stock. My GT 500 Shelby Cobra has 662 hp right from the gate. Add a tuner and a few other aftermarket products and you can easily be at 750 to 800hp. Now, do you think the average guy is going to buy a new Stang 5.0 for 40k and then send it to Vegas for another six months and 45k for a slightly better car? I think not. The car shows are flooded with boss 302 cars and the regular 5.0. They both are powerful cars and a lot of fun.
Disappearing times…
The first one to go was sadly Saleen. Too expensive for the average Mustang owner. Rousch was second as Ford did not need them anymore since they could build rocket mustangs in house. Now, it appears Shelby America is in trouble. Selling the first AC Cobra, laying off employees, a sale on the clothing and other items, and so on. It smells like death.
I do hear the death rattle all the way across the country. I am saddened but when a person can go to the local Ford dealer and buy a new GT350 or the top GT-R who needs the aftermarket guys? Out in Vegas they have a huge new building full of employees and the monthly nut to crack must be big. When we saw the shop working so slowly and inefficiently we knew something was amiss. We just did not think this was going to happen. But looking back now it makes sense for the reasons outlined above. With Ford pumping out top notch Mustangs today who needs an aftermarket company like this? Such a shame however. Keep your eyes and ears open but I think we are watching the end of an era.
More Muscle Cars For Sale – http://fastmusclecar.com/muscle-car-for-sale/
Shelby of America in Trouble?

,