News
LIVE Coverage From Redemption 7.0 At The Texas Motorplex
By
|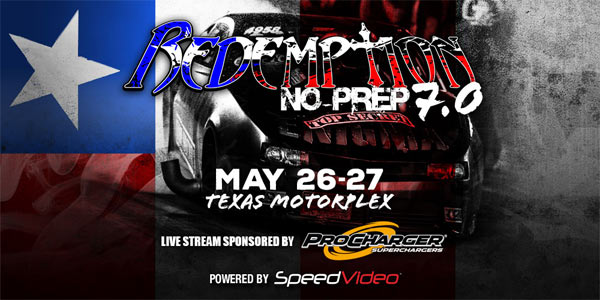 By Dave Ashton
Redemption 7.0 will be coming to the Texas Motorplex, Ennis, Texas on May 26-27th with heaps of no prep racing and setting up the amazing coverage to cover the Redemption Series 2017 season.
For 2017 Shannon Morgan has turned the event into a full on competition over for events with some of the biggest payouts in no preparation with an enclosed trailer as the points price champion.
Friday will start with the special small tire class with competitors, all competing for an $8000 prize pot. The events on Friday will also have an old school out what class with back-half Big Tire cars also having a chance for an $8000 purse. This will also accompany events such as the true Street class, factory Street and Factory Truck class amongst others.
Saturday's events will feature some of the stars of no prep industry outlaws competing in the small tire and outlaw big tire classes, along with the Outlaw Street, King Of The Tail Gate. The top guys will all be vying for prize of $20,000.
All the events will be broadcast live on SpeedVideo.com if you follow this link here.
Live Stream Schedule:
Friday 2:30pm CST – 12:30pm PST
Saturday 1:30am CST – 11:30am PST
Full list of classes:
Friday Small Tire
Old School Outlaw
True Street
Sportsman
Factory Street
Factory Truck
Dragster
Saturday Small Tire
Outlaw Big Tire
Outlaw Street
Outlaw Small 29.5
King Of Tail Gate
6.50 Index
5.80 Index
For all muscle car parts – http://fastmusclecar.com/muscle-car-parts/