News
Hellcat Challenger vs. Tesla P100D 1/4 Mile Drag Race
By
|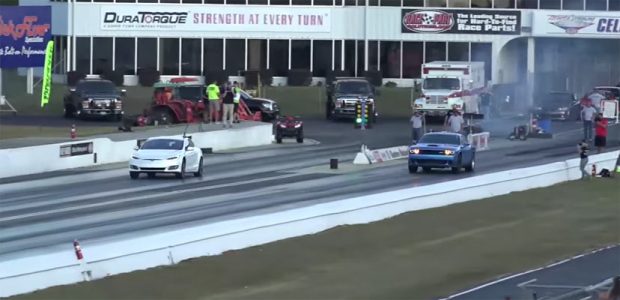 By Dave Ashton
This is an interesting video, which features a Tesla P100D up against a Dodge Challenger hellcat in a quarter-mile race, but everything is not what it seems on the surface with this shootout.
The video is made by the Tesla racing Channel, so they obviously have a bias from the start which is obvious throughout the video, even at the end when the official is sort of made out to not understand the Tesla and its newfangled technology when explaining the rules.
The spoiler here is that the Tesla does win the race but not by a massive amount but it does win, however, it's really like comparing apples to oranges. Comparing an electric motor to an internal combustion engine are completely different scenarios. In reality the only similarities are the four wheels and the body shell, Everything else is more or less different technologies. So any muscle car or V8 fans shouldn't be dismayed by the results, they are totally different propositions.
The race is really to continue to big up the Tesla and although it may be the start of vehicles to come, V8 engine have plenty of years more life in them and will possibly never go away. One thing that electric vehicle can never provide is the visceral feel and sound which only a V8 can provide. It's a bit like the difference between listening to your favorite tune on a tiny little radio, turned down or standing in front of a high-end hi-fi at full volume, you don't just experienced the sound, you feel it. The other takeaway here is that this should also be seen as a positive and looking forward to what could be the next generation of muscle cars.
An electric muscle car should be a viable option, meaning if we take all the best bits of what makes a muscle car and provide an electric solution, this may just top the sports performance vehicle market if done right. It will mean a big mental shift for many, but it seems electric vehicles are at some point in the near future going to be the norm., so why not produce an electric muscle car, especially one that can outperform the rest. The best in performance, the best sounding and the best looking all at an affordable price. If Tesla have a ludicrous mode, why not a muscle car mode with the highest amount of power? That should be the muscle car way.
I like Tesla vehicles for many reasons, but I don't think a drag race between an electric vehicle and any type of internal combustion engine vehicle proves anything apart from comparing two cars in two completely different categories.
More Muscle Cars For Sale – http://fastmusclecar.com/muscle-car-for-sale/
Donate To Fast Muscle Car
We spend a lot of time bringing you muscle car content. If you would like to donate something to help us keep going, that would be fantastic.
Hellcat Challenger vs. Tesla P100D 1/4 Mile Drag Race

,