News
Dodge Prove They Make The Coolest Muscle Car Colors
By
|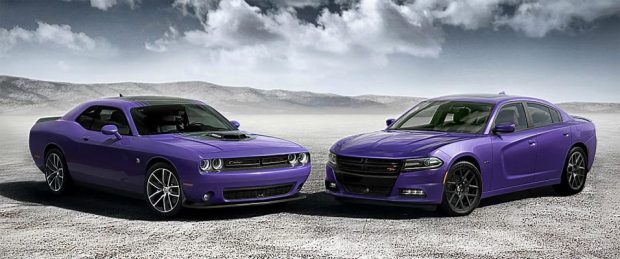 By John Simmons
It can be argued that most modern car manufacturers don't offer the wild car colors of the past and vehicle colors seem more sedate these days than any time before.
Thus, we are glad makers such as Dodge are still producing and continued to come up with some of the wildest car colors as part of their range.
Most are being reintroduced from the heady days of the original muscle cars, with a few new ones thrown into the mix.
Some of the ones being introduced for 2017 include – Redline 2K, Blu By You, Stout Brown, White Knuckle, Redline 3K, Maximum Steel Metallic, Bomber Brown, Vice White, Octane Red, Yellow Jacket, Granite, White Noise, TorRed, Olive Green, Billet, Blood Orange, Green Go, Black Onyx, Go Mango, Destroyer Gray, DB Black, Contusion Blue, Bruiser Gray and Pitch Black.
But for you car colour aficionados out there, here's a list of of some of those vintage car colors and the color codes from Mopar, which may come and go over the years.
1970
FC7 In Violet /Plum Crazy
FJ5 Lime Light/Sublime
EK2 Vitamin C Orange/Go-Mango
EV2 Tor-Red/ Hemi Orange
FY1 Lemon Twist/Top Banana
FM3 Moulin Rouge/Panther Pink
FJ6 Sassy Grass/Green-Go
EA4 Silver/Silver
EA9 Charcoal/Dark Grey
EB3 Ice Blue/Light Blue
EB5 Blue Fire/Bright Blue
EB7 Jamaica Blue/Dark Blue
FE5 Rallye Red/Rallye/Bright Red
FF4 Lime Green/Light Green
EF8 Ivy Green/Dark Green
EF9 Dark Emerald
FK3 Burnt Orange
FK5 Deep Burnt Orange/Dark Burnt Orange
BL1 Sandpebble Beige/Beige
EM9 Deep Plum
FP6 Frosted Teal
FQ3 Light Turquoise
ER6 Scorch Red/Red
DR8 Burgundy
FT3 Sahara Tan
FT6 Burnt Tan/ Dark Tan
FT8 Walnut
EW1 Alpine White/Eggshell White
TX9 Black Velvet/Black
DY2 Sunfire Yellow/Yellow
DY3 Yellow Gold/Cream
FY4 Citron Mist/Light Gold
FY6 Gold
C37D Petty Blue/Corporate Blue
1971
GY3 Curious Yellow/Citron Yella
EV2 Tor-Red/Hemi Orange
FJ6 Sassy Grass/Green-Go
FC7 In Violet/Plum Crazy
FY1 Lemon Twist/Top Banana
GA4 Winchester Gray/Light Gunmetal
GA8 Dark Gunmetal
GB2 Glacial Blue/Light Blue
GB5 True Blue/Bright Blue
GB7 Evening Blue/Dark Blue
GC8 Indigo
GE7 Burgundy
GF7 Sherwood Green/Dark Green
GF3 Amber Sherwood/Light Green
GY8 Gold Leaf/Gold
GY9 Tawny Gold/Dark Gold
GJ4 Moss Green
GK6 Autumn Bronze/Dark Bronze
T5 Tan
GT2 Tunisian Tan
FE5 Rallye Red/Bright Red
W3 Snow White/Bright White
TX9 Formal Black/Black
EL5 Butterscotch
Some original colors which didn't make it through from Chrysler include –
Catch Me Copper
Gang Green
Cost Of Living Rose
Fisher Body Rust
Frank Lloyd White
Hi-Ho Silver
Statutory Grape
Unforseeable Fuicha
Well Red
For all muscle car parts – http://fastmusclecar.com/muscle-car-parts/
Donate To Fast Muscle Car
We spend a lot of time bringing you muscle car content. If you would like to donate something to help us keep going, that would be fantastic.