News
Dodge Demon Brings Back The True Spirit Of Muscle Cars
By
|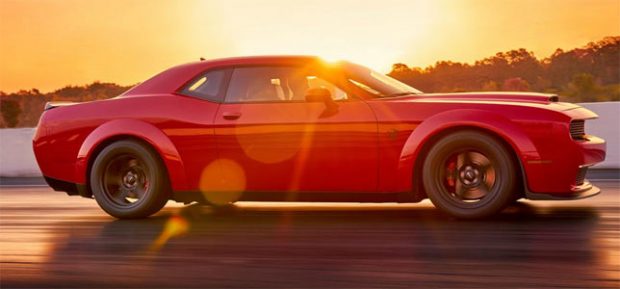 By Dave Ashton
After much anticipation, the 2018 Dodge Challenger SRT Demon was finally unveiled at the New York auto show yesterday with all the specifications and rumors put to rest. 849 horse power and the first in many areas for any production vehicle as you can read in our synopsis yesterday.
Dodge are rightly shouting about these first features such as the highest horsepower, highest GeForce, fastest 0-60mph time and the first production car and to be able to pop a wheelie on launch. The 0 to 60 time is 2.3 seconds, faster than the Tesla Motors' Model S P100D which can do the same in 2.5 seconds.
It can also be argued that many of the questions that pop up on Google about American vehicles on muscle cars can now be answered by the Dodge Demon. What is the fastest production car in America?, what muscle car has the most horsepower?, what is the best modern day muscle car?, what is the fastest production car in the world?, etc.
The new Dodge Demon's road legal, but completely optimized for the drag strip with highly tuned parts, but what the Dodge Demon and the Hellcat is showing is a return to form for the classic muscle car.
In the 1960s and early 70s, 'no replacement for displacement' was the mantra and owning a vehicle that was affordable, but had loads of power was the name of the game. It's the main reason why the term 'muscle car' is still loosely linked to any vehicle with power above the rest. The term is the link to any vehicle with the idea of that extra bit of grunt and raw power not available elsewhere.
The original muscle cars of the 60-70s were more blunt force tools with plenty of power and tire smoking capabilities. A huge V8 engine with an unmistakable sound cemented these vehicles in legend. Part of the reason why their mystique has lasted so long. By today's standards, they may not have the handling capabilities or power to displacement of a modern car, but irrespective of value most would opt for a classic Dodge Challenger over a Honda Civic any day of the week.
Today's muscle cars are every bit the modern vehicle, but still have that raw sensibility that is so regarded in the muscle car world. The current Dodge Demon employs a groundbreaking air conditioning way to cool the air going into the engine, huge air scoops and plenty of tech. to manage your launches and drag strip prowess.
With the Dodge Demon now the top dog in the horse power stakes, it's likely that the power and horsepower wars will continue for some time, just like the good old days. It may be more of a statement than a usable feature for most, but those buying into a muscle car want the back story and credibility just as much as a usable vehicle.
The Dodge Demon and the Dodge hellcat are probably the most thoroughbred muscle cars we have at the moment. 2017 versions of their grandfathers, which still hold the same sensibilities. It's now the whole that the breed will start to expand and in the coming years see more of the return of these mighty vehicles in a modern package.
But
More Muscle Cars For Sale – http://fastmusclecar.com/muscle-car-for-sale/