Best Muscle Cars
The Cars From The 2017 Barrett Jackson Auction Part 1
By
|

By Mark Weisseg
Yes sir, a Firebird with 246 miles, a Superbird with 14,900 miles and traditional black American hot rod. All in Scottsdale this past week and all quite the cars. The Firebird was very cool but it was outdone by a different Firebird that was VIN number 2. Take a guess who bought it and no it was not me! The Superbird with the low miles was a killer only out done by another Superbird that had a Hemi under the hood. I counted four Superbirds all in great shape with the 440 engine in them. Lastly the American hot rod was the classic hi boy black Ford.
All three were killer cars but I had to ask the owner of the Firebird a question. Why only 246 miles? I told him the cars I buy have four wheels on them and like the children's story the wheels go round and round. His answer was typical. He said he saved it just to sell it someday. Great idea but it did not bring enough money to retire on. He would have been better off driving it and having fun. Oh well.
On to the Superbird. Great car now but a sales weak car when new. I was alive and driving back then and many sat on the lots much longer than desired. The 440 is a great engine and the 727 is a great transmission. It is a shame many overlook these in favor of a Hemi Superbird. I would gladly buy one with a 440. But, I heard many in the crowd make remarks that it was cool but it wasn't a Hemi. To them I say the following. I have met at least a dozen people in the last two years across the country who claim they have a Hemi bird. They never have a photo on there phone of course but claim they own one. I would venture a guess that of the twelve that told me they own one only one or two actually do. If you own one I think you would have at least one picture you could share.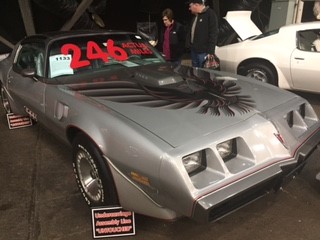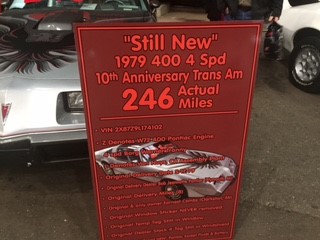 One guy at Barrett was laying it on thick next to me with two younger women. They did not know a Hemi from a steam pipe. Ironically I saw this cat at the airport on Sunday looking like he slept in his clothes. I wanted to ask him if his Hemi story brought him any luck but I decided to go to the bathroom instead. One dick was enough outside the bathroom.
The classic hi boy hot rod was special. If you don't know what a hi boy is I suggest you look it up. But this cars black finish was mirror like. It was sort of tight on the inside but overall this car was very cool. Not the fastest engine on display but everything was done very well. Interestingly after it sold the owner or former owner was hand waxing the paint before it left via truck. I saw that several times. I guess it's hard to let go.
Most everyone I saw there loved there cars. Even after the sale some were a bit misty eyed. Not the flipping people but the people who poured there heart and souls into a car. They drove them and loved them but it was time to move on. The old Ford was like that. The owner loved the car and hated to see it go but he wanted to move on.
One item I really took notice with regarding all these cars was that some of them were short term cars. Somebody bought them, drove and loved them a few years and then sold them and moved on to something else. Many owners made money but many lost there ass too. You never get back the labor or the blood, sweat , and tears but some owners just thought there cars were worth more than what they really were. And, you see that locally were you live for sure. These three beauties will go on to new owners and I have a feeling in a couple of years I might just see them again.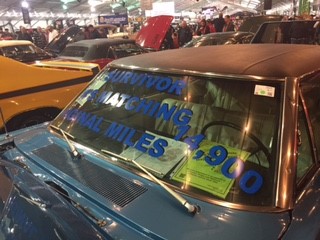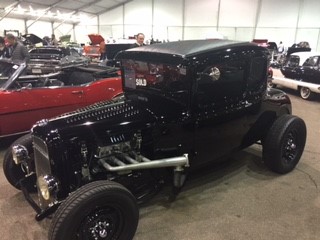 More Muscle Cars For Sale – http://fastmusclecar.com/muscle-car-for-sale/
Donate To Fast Muscle Car
We spend a lot of time bringing you muscle car content. If you would like to donate something to help us keep going, that would be fantastic.