Muscle Cars
This is how we rolled: The Plymouth Roadrunner
By
|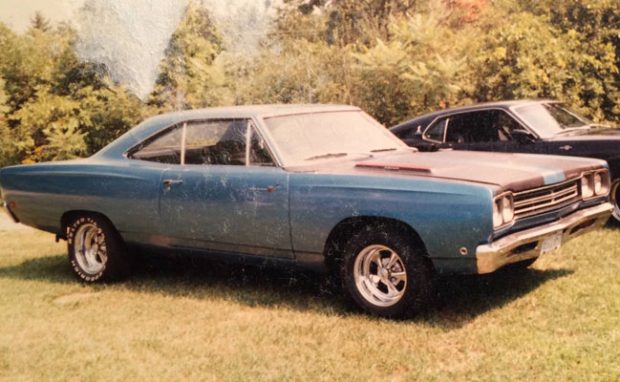 By Mark Weisseg
This is how we rolled back in the day. This is a 69 Hemi Road Runner and as you can see it has a few bumps and bruises. But, we nearly all stuck on the Cragar SS wheels, jacked up the back end a bit and drove. ( Rolled) so what if the hood was a bit beat up, or the side of the car was a little crinkled. We rolled. We would either fire up ( turn on) the am radio loud or use a fm converter to listen to deep rock and roll. If we had extra money we splurged ( spent more) on a eight track player and 6×9 speakers. If you had that set up you were really cruising hard. (driving with more fun)
The little things like the wiper blades did not matter nor if you had a side marker light out, you were rolling. The tires might be recraps ( used tires with a cap on the tread) and the seats might be a bit worn but it did not matter. What would you rather do in the following scenario? Pick up a hot chick ( good looking female) in your old mans ( father) station wagon or your very own love machine. ( your own car) Easy answer of course. Back in the day the chicks ( girls) went for the dudes ( guys) that had there very own wheels. ( cars).
So, if the car was a bit rusty or a bit worn it did not matter because you had a ride ( car again) versus the other loser guy who didn't. He was the Poor fool who could not borrow the family truckster ( family car with sticky floors) on a Friday night. So, we put the tight jeans on, slicked our hair back to look like KC of the KC and the Sunshine band and we were gone for the submarine watching for the night. (Necking) or better known as making out. ( which was really hugging and kissing)
Do you cats ( guys) get my drift? ( understand me)? I hope someone does.
For all muscle car parts – http://fastmusclecar.com/muscle-car-parts/
Donate To Fast Muscle Car
We spend a lot of time bringing you muscle car content. If you would like to donate something to help us keep going, that would be fantastic.