Muscle Cars
Add this to classic muscle cars and stuff
By
|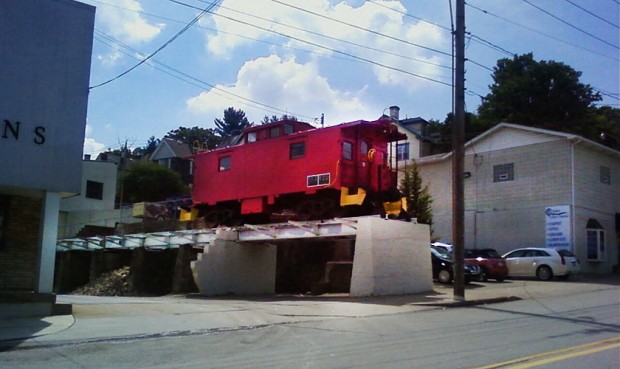 By Mark Weisseg
It's likely that if you have been in this hobby long enough, you will own more than just cars and trucks to keep the blood flowing. I sure do, which brings me onto a cool story I want to share with you about a guy who took it to the extreme.
Years ago, I decided to do a cold call on a client and really did not think it would go anywhere, but since I like challenges, I went for it.
I wheeled into this place of business and sure enough,what you see in the image here, is what is was out front. A real Caboose. Well, that gave me my opening speech and here is the real story of a caboose mounted on real train tracks in the middle of a small town.
Turns out the owner had passed away since I stumbled in there, but his son was proud to tell me his Dad was a train nut. Loved trains all his life, so when the opportunity came along to buy a caboose he did.
He brought in real tracks, but the caboose sat for quite some time on the ground.
After a period of time the guy got all the permits and blessings off all the towns officials. So, he brought in a huge crane and had the caboose lifted into place. It was a whole day to do this and of course most of the town showed up to watch. I know I would have packed a lunch on this one.
So, here it is years later still sitting where the crane left it. I guess it will sit here for eternity or until or if, it becomes unsafe or dangerous. Clearly you cannot miss this when driving into the town.
That brings me full circle to our hobby. Most of us know or have heard of someone in our hobby doing something really cool like this.
I have heard of cars inside garages on turntables, I knew of a guy that bought the house next to his and stored his classic cars in there. All disguised as a regular house.
There is a business close to me that where the front of the building is a working office building, but the back has a door to drive his classic cars into for his storage.
I know of a company that has an old building that has a huge freight elevator. A guy with a collection bought the building only because he can store cars on various floors and get any of them out via the freight elevator.
I will lay odds you know of a place like this as well.
In our hobby we will do about anything to keep our classics safe and secure. Some just have more money than others to do more elaborate things.
Did you know there is a community outside of Chicago that is entirely designed for high end cars? They look like patio homes or possibly a town house but they really are high end garages. Very expensive places and very hard to even get in to buy one.
The things we do for love huh?
For all muscle car parts – http://fastmusclecar.com/muscle-car-parts/
Donate To Fast Muscle Car
We spend a lot of time bringing you muscle car content. If you would like to donate something to help us keep going, that would be fantastic.