Muscle Cars
Car Finish: Matte or Wrap?
By
|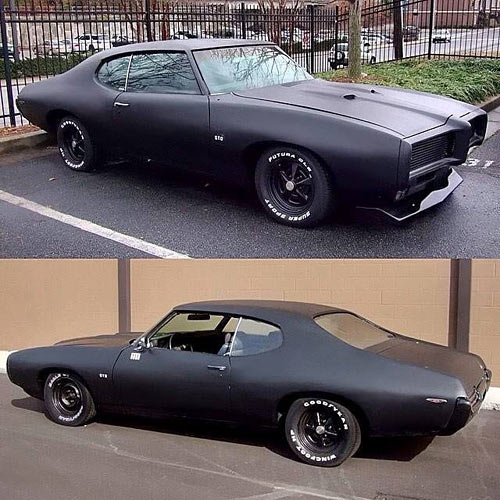 By Mark Weisseg
A car's finish is very subjective. The Matte finish is cool, same with a wrap….or can a wrap be an easy way around fixing rust or dents? There's always two ways to look at anything.
I admit I like some of the wraps and some of the Matte finishes, but in my case it appears to be a case by case basis. Like anything else, it appears some cars look better than others. Do a Matte black on a Caprice and you have a very loud dud on your hands. But, do it to a Camaro, GTO, Charger, or Mustang and you will get high praise from fellow hobbyists.
Of course whether it be a wrap or the flat Matte finish it must be done right. Back in the day a $99.00 paint job looked exactly what you paid for.
Generally in our business you get what you pay for. I spoke with a wrap guy last year and he laid it on big. The biggest selling point was that if you get bored of the wrap in two years you can have it changed much cheaper and quicker than a complete paint job. Ok, I get that point so he has my ear. He laid out several good points and he admitted to a few downsides. However, here is the point and I hope it makes sense to everyone.
If a Matte finish or a wrap is what you desire then go for it.
Technology is our gift and we need to embrace any change. Some ideas float well while others may linger along. The point is we have choices we did not have before. I like the new sprays that will allow you to paint your wheels any color. You ride for two months, want a change, so you peel off the red and re-spray the wheels green. Aa all new look for a fraction of any costs. There are wheels produced today that claim they will never rust. You just hose off the dirt. No wiping, buffing, just hose off.
So, you can see we have a lot of choices today we did not have five years ago. Our classic cars have never had it so good.
No matter how you want your car to look, we have the technology today to make your car look anyway you wish on a temporary basis until you decide on the final finish you like. We save money, can change our cars on a regular basis, and never get bored. The generation before us that are gone now would never believe these changes.
For all muscle car parts – http://fastmusclecar.com/muscle-car-parts/
Donate To Fast Muscle Car
We spend a lot of time bringing you muscle car content. If you would like to donate something to help us keep going, that would be fantastic.