Muscle Car
The Good And Bad Points Of A Plymouth Road Runner
By
|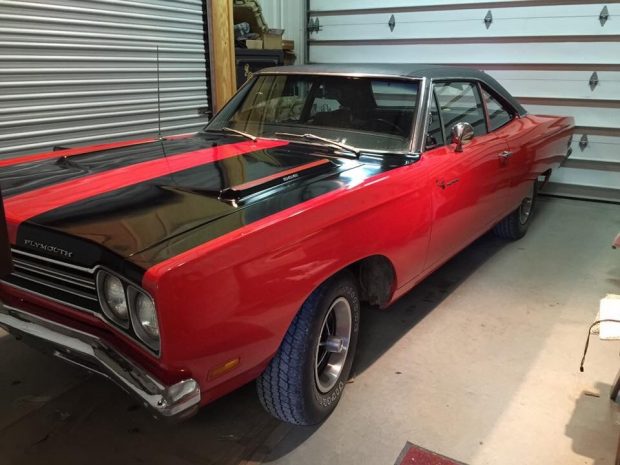 By Mark Weisseg
First, to be open and honest I own a 1969 Matching numbers Road Runner. Mine is B5 Blue exterior with blue bucket seats interior. A standard 383, four speed with really no bells and whistles. The numbers match and the car is nearly perfect. It is my high school dream car that I could not afford back then.
So, I get a bit uncomfortable when I write about the RR because I don't want to sound like a honking jackass. When I saw this picture of the red RR I started questioning my own. This red one looks to be in great shape and nothing outrageous has been done. That is how mine is.
Except, I have powder coated steel wheels and dog dish hub caps and not the magnum 500 wheels. So, getting directly to the positives and then negatives of the car if you leave it stock are as follows.
The car runs really good in a straight line. The 383ci. with 335 hp is pretty fast. Obviously if you had the super commando 440 it would be better and the Hemi speaks for itself.
The four speed transmission is a bit clunky but it does what it has to do. The bucket seats are fair and the back seat has plenty of room. Under the hood you could throw a handful of dimes at it and they all will hit the ground. The trunk is big enough for a family of four to sneak into a drive in movie or haul many suitcases.
The downside is the brakes are weak, but this is the case with any period muscle car with drum brakes. You can get this bugger up and fast in a straight line but you better calculate how you intend to throw the anchor out to stop it.
The steering is soft and you feel like you are flying the Goodyear Blimp ( which I did briefly) as it is loose. The car is not made for cornering at all. And I mean at all. It has a vinyl top that is a pain to keep clean but it came with the car so it stays. And the only other item that comes to mind separate from the good and the bad is that I am grateful I finally got to own one.
I wanted one for years and never pulled the trigger until I was in my 50's. That is a long time to wait for anything.
Was it worth it? Well, yes as it filled my heart and bucket list but no because I expected more from the car. Back in the 68, 69, 70 time frame the car seemed the best as guys that did have them did wild burnouts and got the best girls. I was jealous then and wished I could have one but it was not to be and looking back it was best I did not get one. But today my RR gleams.
The paint looks like it is wet, I treat the car like a queen and get positive head nods and thumbs up everywhere I go. Will I keep it forever? I doubt it. I love the car but I love so many cars I will need to get rid of something as I am bulging at the seams now.
But as for the Plymouth Road Runner, it is a muscle car statements of its time, built for straight-line speed with solid muscle car features which are still respected today.
It would be silly to compare the Road Runner to vehicles of today, but for a vehicle of its time, it was one of the standouts.
A side note to this story is I had my car inspected and registered by Galen Govier. He sent back a report that said the two little Phillips head screws on the fender tag were too big. When the car was fully restored in 2014 it is Galen's opinion the two screws are too big. I must say it made me furious as the screws are the right ones as I have had this car checked over from stem to stern by a local expert. He did not know I had Galen look at the car but he passed the two little screws as being the right ones. The only other issue was according to Galen was that there is something in the fender tag that should not be there. He won't tell me what it is even though I wrote him two checks. One for fifteen dollars and another for ninety nine dollars.
More Muscle Cars For Sale – http://fastmusclecar.com/muscle-car-for-sale/
Donate To Fast Muscle Car
We spend a lot of time bringing you muscle car content. If you would like to donate something to help us keep going, that would be fantastic.
The Good And Bad Points Of A Plymouth Road Runner

,