Muscle Car
Is Black Your Favorite Color Of Muscle Car?
By
|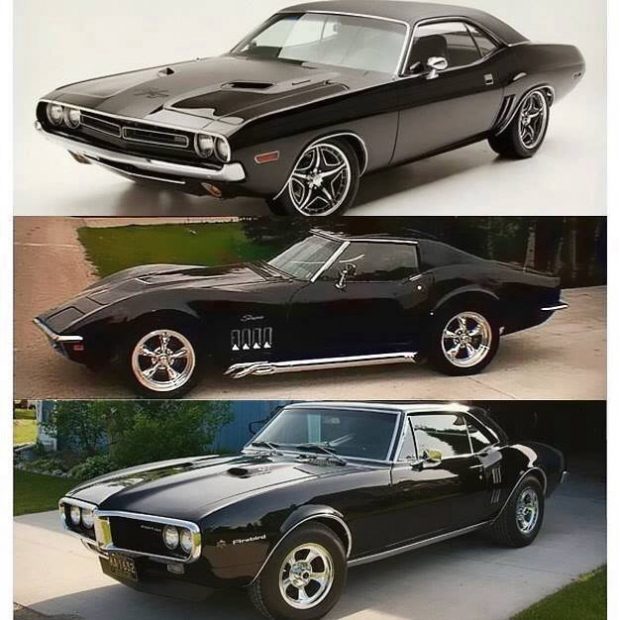 By Mark Weisseg
Everyone here is a classic car guy that has not wanted one of these in the garage at sometime. Anyone will secretly tell you one of the three are cool.
It's like the old Tee Vee show, Lets Make a Deal. What is behind door number one, Two or three? Luckily for us there is no old donkey lurking like we saw back in the day. Each one of these cars cause the drool factor.
Everyone drools over at least one and that is what we desire. But what I find funny is when you see someone at a show and they have all the bells and whistles along with chrome and paint to entice and then it happens. Some funny guy comes in with something really odd like a Yugo and steals your thunder. It's happened to most of us.
It would be almost impossible to walk by any of these three and not take notice. Certainly none of these were the fastest on the street then and now but who doesn't want to slip behind the wheel of any of these? Black is always a great choice in color for your classic.
I have a black classic car and it's a bitch to keep clean. I can walk around that car and find flaws everywhere. It's the nature of that color on a car. Very hard to paint and very hard to keep it shiny. But that color still must be a favorite because nothing makes a car look tougher than black paint. Except maybe bright red.
We all treat our classics like a first borns and it hurts deep as they age. Every little stone chip or scratch is like a five alarm fire. But when the stars line up and the seas are calm each one of these cars in black is the best.
I swore I never would buy black again but I would bet I would break that promise if the right car came along. Like anyone of these three. All very different but equally very cool.
It's fun to watch these cars climb in value every year. Why? Well, they are harder and harder to come by. At times I think when I watch a big TV auction that they are all the same cars just in different cities. Like the buyers are all fakes. They load the cars onto big trucks and ship them to the next city. It's a fun thought but very crazy.
I mean when anyone sees a Challenger like pictured here it gets your antenna up. And even though it seems like there are zillions of Corvettes out there the classics are tougher to find in great shape. And let's not forget our Camaros.
Yes, the new 2017 looks amazing and most of us would love to have a '67 to '70 parked in our garage. I am also not leaving out or forgetting the Mustangs.
I own two of them from different eras and they are still number one for aftermarket products. Why? Because the love for the car runs very deep. Whether it is a '66 Fastback or a Mach I the car is just a world class vehicle.
I hope you cherish all our muscle cars of the past and watch our web site for the best of the best. We have an endless supply of pictures, stories, and ideas to share with all of you. No matter where your love hangs we will touch on all of them in short order. Stay tuned.
More Muscle Cars For Sale – http://fastmusclecar.com/muscle-car-for-sale/
Donate To Fast Muscle Car
We spend a lot of time bringing you muscle car content. If you would like to donate something to help us keep going, that would be fantastic.