Classic Muscle Cars For Sale
1976 Ford F-150 CUSTOM VIN #00001 - 28K MILES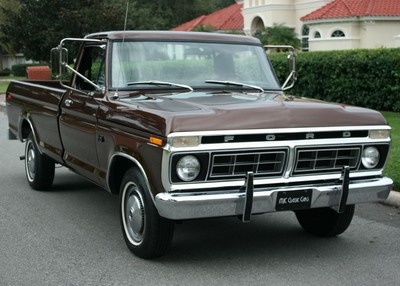 This truck has brand new dual stage in correct Chestnut Metallic.
Mint factory Black vinyl interior all original including dash,
carpet and headliner. Excellent chrome & stainless.
Optional factory wheel covers and new whitewall radial tires.

This lovely car has been well cared for by its prior owner
and will look great in your new garage...
The car is equipped with the factory 300 cubic inch straight
six engine, 2BBL carb and three speed manual transmission.
Body has no accident damage ... the underside is as nice as the top !!!

Garage kept, pampered and serviced, this car could not be nicer.

This car has been refreshed, detailed and ready to drive or show.


FEATURES AND OPTION INFORMATION

EVERYTHING WORKS INCLUDING THE CLOCK!!!

100% laser straight, rust free sheet metal
Amazing new dual stage Chestnut Metallic paint
Mint original Black vinyl interior & original door panels
Excellent chrome and soft trim throughout
Original 300 cubic inch six cylinder engine & 2BBL carb
Three speed manual traansmission
Original AM/FM radio and speakers
Factory wheel covers & new whitewall radial tires
28,000 garage kept miles since new



Value in collector cars is all about the right color combination and original condition.



I deal in low mileage, original cars & trucks... This is truly a fine example of Ford's icon !!!

As a full time business, I buy original, low mile classics to keep, refresh, or restore and sell.
Inspections prior to auction end are not a problem and are encouraged.
Note this and all vehicles sold by us on eBay or our website are as/is where is. The information, products, and services published on our website may include inaccuracies or typographical errors. MJC Classic Cars LLC and/or its respective suppliers make no representations about the suitability of the information, products, and services contained on this website for any purpose. All such information is provided "AS-IS" without warranty of any kind. MJC Classic Cars LLC and/or its respective suppliers hereby disclaim all warranties and conditions with regard to this information, including all implied warranties and conditions of merchantability, fitness for a particular purpose, title and non-infringement. In no event shall MJC Classic Cars LLC and/or its suppliers be liable for any direct, indirect, punitive, incidental, special or consequential damages arising out of or in any connected with the use of this web site or with any delay or inability to use this website, or for any information obtained through this website, or otherwise arising out of the use of this web site, whether based on contract, tort, strict liability or otherwise , even if MJC Classic Cars LLC or any of its suppliers has been advised of the possibility of damages. Because some states/ jurisdictions do not allow the exclusion or limitation of liability for consequential or incidental damages, the above limitation may not apply to you...

ORIGINAL MILE TITLE IN HAND


My vehicles are fully repaired and refreshed, ready to drive on arrival.
No dealer repairs their cars like we do. We charge more money for
our vehicles but we make the repairs so you don't have to. Please
visit our website "About Us" tab to understand what makes us different !!!
sales@mjcclassiccars.com

Call to work out a buy it now. Asking price means just that !!!
I SPECIALIZE IN LOCATING PRISTINE CLASSIC CARS.
EXCELLENT HISTORY OF CAR EXPORTS FOR OUT OF COUNTRY BUYERS.



SHOULD YOU HAVE ANY QUESTIONS, PLEASE FEEL FREE TO CALL ME ON

Please call my cell phone 863-944-8615
OR EMAIL sales@mjcclassiccars.com

Inspections are welcome. The car is for sale locally and if sold, the auction will be canceled.

Please remember, this is a 41 year old truck.
I am representing it as accurately as I can based on my knowledge
and have tried to give as much information as possible.
It is being sold without warranty and as is...

It drives and handles like brand new !!!!

A non-refundable $1000 deposit via PayPal is required or
cashiers check within 48 hours of auction end.
Full payment under the same methods is
required within 7 days of auction end.

If you need assistance in transport, I can refer you to the company I have used many times...

Please, if you are not intending on paying, please do not bid.
All bidders with less than 5 feedback's need to call me or their bid
might be canceled.

I have recently ended four other auctions due to
local sales, so don't miss out... Call me...
PLEASE CHECK OUT ALL MY OTHER EBAY AUCTIONS !!!!!!!

PLEASE CLICK MY EBAY SELLER ID AND SEE THE "ABOUT ME"
SECTION - IT WILL GIVE DETAILS TO OF THE TYPES OF CARS I SELL

There are 59 pictures below... Be patient, it is worth the wait
CHASSIS PIX COMING SOON
Current Bid : $18100.0
Our classic muscle cars for sale section lists our daily finds of the best muscle cars for sale on line. Just select the make and find your ultimate ride!
Which muscle car is right for you?
There are many reasons why you may want to invest in a muscle car. It could be a vehicle you wanted since childhood, or simply an investment, but with so many cars on the second-hand market, its best to define a few criteria before you start your hunt.
A regular driver or once in a while.
With any classic car, the more miles you put on the clock the more it will potentially depreciate. However, unless it's an expensive investment, these cars are made to be driven so decide which one you want first. A trailer queen is usually just a showpiece, while grocery getters are arguably regular drivers. You may want to show your car in the future at a car show or cruise. If you have this in mind, you will need to spend more money on the vehicle, a restoration or both. Usually, this means spending more than your average runaround.
Do you have the restoration skills?
Because we are dealing with older technology, even the best kept classic will need constant maintenance. If you're going down the restoration route you will need time, money and skill. Like most things in life, you can't do it yourself, you have to pay somebody else to do the work for you. Be honest with yourself from the beginning about this point as it could cost you in the long run. when you are deciding your budget to spend, try to factory in the cost of repair and car parts. You can find links to many classic car part vendors on our car parts page.
Budget
like it or not, your budget and finances will ultimately dictate what type of vehicle you eventually purchase and how much work you can perform on it long-term. Be realistic with a round figure and short list some potential vehicles you like. There's no point wanting a 1969 Dodge Charger R/T 440 with a rare color if you only have the financial resources to buy a mid-70s body shell. Setting a budget is very important as buying one of these vehicles is largely based on emotion with some people buying their dream car without any thought of how much the ongoing costs will be. If possible, take a step back and do some rough calculations. There's no point in buying what is your dream vehicle to get disillusioned in 12 months because costs spiraled out of control. It's much better to save for much longer, than jump in with both feet.
Know your Chevy's from your Mopars
You don't need to know every intricate detail about every make and model, but it's an idea after shortlisting a few makes and models to note what makes them individual for their particular year. Some makes and models differ hugely from one year to the next, while others only have subtle changes. For example, a 1970 Plymouth Barracuda has single headlights, while the 1971 model has dual headlights. You can find a lot of these answers on our website.
Vehicle that are easy to restore, still reasonably priced, with lots of parts available include Dodge Darts, basic Camaros, Mustangs and Chevy Novas. This may change over time, but they do make a good starting point.
Under $10,000
We are at the stage where you can't really buy that much for under $10,000, but there are still some examples out there. An early 2000 Camaro SS with higher mileage can still be bought for under $10,000. You could also include a 1980s Camaro Iroc z. You could possibly also pick up a 1968 Ford Mustang in basic condition, but for under $10,000 you are really stretching things a bit these days.
Under $20,000
As previously mentioned, you can buy a Chevy Nova SS in reasonable condition for just under $20,000. These are solid and simple to work on cars.
Oldsmobile and Mercury's give you a lot for your money at this price point, like a 1969 Oldsmobile Cutlass or even a late 60s Mercury Cougar. At this price point your in the realms of buying vehicles that can be restored, but just like completed vehicles the rarer the make and model, the more you will have to pay. You can also get some reasonable vehicles past 1972, but they don't have the kudos or value of their late 60s and early 70s versions.
Under $30,000
Like other vehicles the more you spend, the more options you have and the better the completed vehicle. You can get a nice 71 Mustang or Camaro in excellent condition or the start of some of the more premium years, such as 1969 models. If you want something like a 1970 Hemi Cuda, we have seen them for as low as $55,000 , but you'll be looking at more like $100,000. A 1969 Plymouth Roadrunner with average mileage can be got for just under $30,000, but it will require some work. 69 Road Runner muscle cars for sale in show condition will be more like a high $50,000.
Insurance
Car insurance is also a factor when it comes to owning a classic. We can't give any specific recommendations, but the likes of Hagerty, Heacock Classic and Grundy are three common insurers. Always make sure that muscle car insurance is one of their offerings and they are knowledgeable about these vehicles.  Questions to ask them are do they  offer agreed value or stated value coverage, do they require professional appraisal, do you have to provide images of the vehicle, are there liability limits, are there mileage limitations, do modifications to the vehicle affect insurance coverage, are there storage restrictions, are there driver restrictions, do they offer roadside assistance, are there any good driver discounts, how are claims submitted and can they provide references specifically for classic insurance. Insurers that are knowledgeable about these areas are the better ones to go for.
Classic Design, New Parts
You could also consider a resto mod which is essentially a classic body with modern parts. They will give you more peace of mind in theory when it comes to the mechanics of the car – new engine, better brakes and suspension. To buy a good example will probably cost you near $50,000, but we have seen examples like a 1966 Mustang with a 302ci 5.0 liter EFI for just under $30,000. You also have the option yourself of buying a donor vehicle and dropping in a crate engine with upgraded parts, but this route can become costly in the long run, especially if you have outsource all the work. Custom tuners and mod shops makes some fantastic restomods with lots of custom features, but the end cost is usually for the person who has the budget to specify exactly what they want from a car.
Each year that goes by the classics go up more in value. A 1969 Dodge Charger R/T with original powertrain in top-notch condition can cost at the beginning of 2017 anything from low $60,000 and upwards. if you want something like a 1971, Plymouth Barracuda, these can range from anything from hi $40,000 to name your price, depending on the rarity of the options. Some of the most rare optioned muscle cars are now stretching to the million-dollar mark and above. This is one of the reasons why all these vehicles from the late 60s to the very early 70s are now jumping up in price each year. A 1971 Hemi Cuda Convertible 4-Speed sold for $3.5 Million at Mecum in 2014 and a 1970 Chevrolet Chevelle SS 427 LS6 for $1.15 Million in 2013 also at Mecum auctions. These are the rarest of the bunch with the rarest options, but it does give you an idea of where the market is heading.
A good resource for finding muscle cars for sale and the current value of vehicles is Hagerty which can give you a rough idea of the value of different makes and models. Then it's a case of just keeping your eye on the listings for a short while to get a handle on current prices. Just like with other vehicles, dealers will cost you more, but you have more peace of mind if anything goes wrong. Private sellers allegedly have cheaper prices, but you have to be far more knowledgeable with what you are looking at, especially with these classic vehicles.
If you are buying a Ford then a vehicle that comes with a Marti Report will give it much more worth to its credibility and originality. For Mopars a Galen Govier recommendation is also a good sign. Broadcast sheets, back history and any other type of paperwork will also add credibility to a vehicle. Ask for the Fender tags, VIN numbers and build records. The more information a seller provides the better.




Classic Muscle Cars For Sale

,