Classic Muscle Cars For Sale
1963 Chevrolet Corvette Grand Sport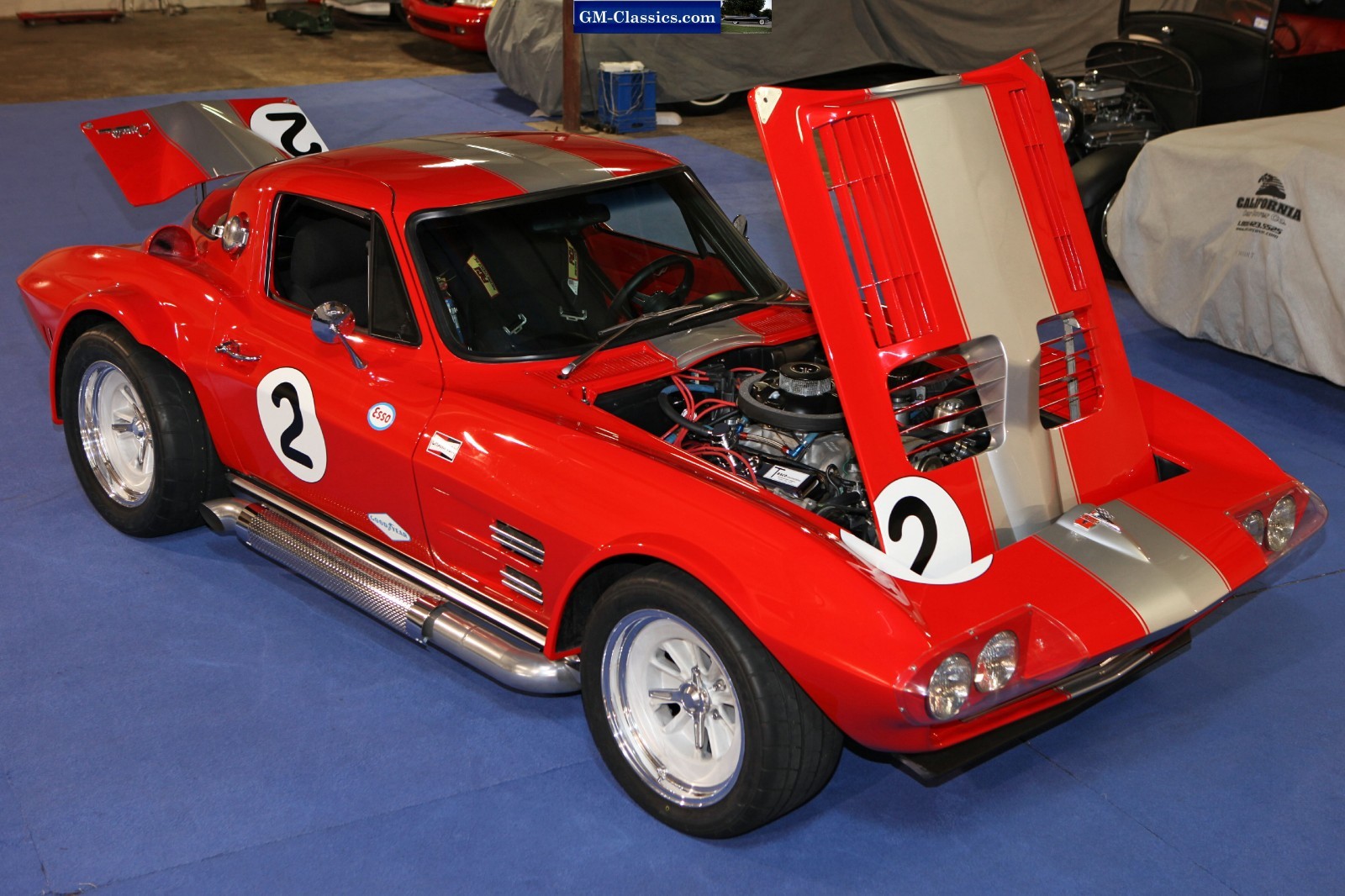 1963 Corvette Grand Sport
L88/ZL1 Aluminum 540 - 5 Speed
Matt Garrett - Dallas Texas - 214-878-3823
1963 Corvette Grand Sport, D&D GS "lightweight" chassis #48 completed around 1996, real 63 regular corvette vin/title. Late GS #003 L88 Traco inspired engine compartment. Reconfiguration from prior early SBC 377 that was built for this car in 96 and shown nationally since then. With less that 1500 miles on the chassis, we decided to change the car up in the most profound way. Using the BBC "mystery motor" L88 Traco look of 66 with lots of L88 components give this near 25 year old substantial recreation a flair of authenticity representing the real car # 003 in a "should have been" big block around 66 career point in time on #003. This was an "open checkbook" car, the best of the best of everything, but sticking to a level of authenticity in the process and using vintage parts where intelligently possible. Engine has a vintage L88/ZL1 3198 winters intake, vintage holley, things like correct T/R bolts, linkage, all proper TI ignition look from a worked in MSD system, cheater factory valve covers to hide the big stuff, all worked over to function and feed what is discreetly underneath, a short deck 9.8" Merlin X aluminum 540 block and Merlin 3 345 cc square port heads. Comp Hyd roller 10:5:1 street engine with 697 flywheel power, dyno built and tested prior to installation. (full overkill engine specs below) Custom altered and coated Headman 2 1/8 primary headers, 4" sidepipes with minor resonators in (loud), incorporated factory 1967 powerdome L88 aircleaner system into the Daytona GS hood better than #003 ever thought of doing. They did not have the time we did!
Engine is held to the near exact GS lightweight copy chassis on custom made interlock engine mounting designed for the power and all race thought of applications and street capable driver. Not drag race engine plates, but far from over counter solid oem type, this has vibration isolation and much stronger tie in geometry and mounting points. All this is done with power steering on an Applleton race Steering rack linked to C4 running gear, 13' ZR1 PBR Rare Grand Sport Caliper brakes, full coil over fully adjustable suspension, complete heim link components, ZR1 Dana 44 3:45 diff, lakewood bell housing hooked to TKO 600 Tremic, mechanically pushed Centerforce clutch, Vintage air and heat, fully functional at heat soak idle, mounted and pulled by a heavy duty custom bracket set (no over counter application exists anywhere to do this) hand made to work with all of this on Vbelts with HIGH INTEGREITY in mind for all high RPM endurance driving and hard idle low air flow conditions in mind having all pulley and components optimized on their rpms, Cooled by an alloy stewart pump, griffin alloy 4 core, oil cooled by nascar oil cooler, rear mount diff cooling system, drive belt systems use using the rare 400 67 factory BBC corvette short pump 3 belt and idle pulley tensioner to make what no one may have been able to do yet on one of these very tight lightweight large framed cars.... and that is have a high power street usable big block that can race and track down just about anything all with AC/PS/PB and a full rack all in the car, weighing in wet at under 2800.... all looking vintage old school (simi) correct with no belt vibration or component integrity loss throughout the RPM range. This is a D&D frame, but it is also a class legal SCCA full caged 8 point mounted protection system incorporated into the D&D "lightweight" Grand Sport frame when it was made originally, with a fuel cell inside the framing protected 4 sides and 4 points (not trunk) as #48 was custom built as a race car in 96, but its never been... just a show car with all the capabilities, now being reconfigured to what is above with a usable RPM power range and power to weight ratio not seen too often. Car rides on custom made Halibrand made magnesium 17x10' front 17x12' rear. 5 lug with knock off look for safety and power capability. Tires are currently R compound 275/40 17 front and 345/40 17 rear. Inside is full GS style, Pro-Comp 6 pack, lightweight lexan side and rear windows, that are power actuated. Front window is OEM safety glass. Working wipers with correct midyear arms and blades. Correct T3 headlamps in car also. Race seats with 5 point harnesses all regulation mounted.
All these photos are always a complete car but always an ever changing "work in progress" when new ideas are thought of and interesting history discovered, rare parts found, and incorporated into the car. Being that I have been heavily involved in corvettes since the 70s, and I have owned this car for about 20 years...... The things I have learned on the GS are still filled with mystery, hearsay and subjective opinions no matter what you do or who you talk to or which book you read. The 5 originals were changed up every moment of their short racing span and every recreation, and restoration of an original is an interpretation of a "point in time" of one of the 5 originals. (5 Million dollars each value) There is a right way and a wrong way to do a car.... but on a grand sport, the wrong way is just cutting corners.... there is no set "right way" on interpretation, even the 5 originals are forced to pick a point in time and interpret that... With that said, I have seen originals, have seen some of the best recreations.... but as a matter of "subjective" opinions, and a small percentage of the fact I own this one... have configured most all of it in many forms.... the quality that is in this car really cannot be duplicated in any of them. They will build one in a few months, where it takes me a year to just do a good aspect.... and that is not because I am slow.... Its because I make sure its right.... Many "GS" replicas you see for sale are just "visuals" with many loose ends and lots of corners cut to just make them "get to the show", others are photos of "we will build this for you" and are not done, and its a wildcard to what you get.... others are kits that cost over 100K, then its up to you to take this hard road and learning curve to get your own interpretation out of it.... that will end up being priceless to you in the end but its not an easy road no matter how much money you spend and how many "gurus" you consult .. But there are some good GS you never see for sale, and they have many a 100K put in them with countless years of benevolent work, some more authentic using early parts of lower performance.... and some a mix of the best but still old school vintage in nature.... this is that car.... no holes barred. The performance this car boasts is total race car territory on a conservative scale with its power to weight ratio, and it is still a vintage type engine looking correct. The suspension is sorted and not sorted to just move... but turn both left and right in acceleration and deceleration/braking conditions, the car will do more than I want to push it to... but when I get the chance to push it a little, the car returns flat out bliss with a level of integrity that represents the countless year of work in it... This car would have been the "world champ" if we could time travel it back and give Duntov this one in place of the real GS #003 or 004. Will be in Dallas Autorama Feb 2019.
Click here for Running Gauge View
Click here for Street Drive Video
Click here for Sunday Street Drive Video
Below, L88 engine compartment but with a 540 aluminum Merlin engine under it.
Below: Factory L88 Powerdome air cleaner system.
See the pro comp 6 pack, in center is vintage air controls.
5 point racing harness both sides.
Engine compartment with side mounted brake booster and master.. GS correct.
The undercarriage is a work of art itself. Using the best of the C4 ZR1 hardware tied into the 63 Grand sport tube chassis
Below, visage MSD unit working in car. This was the unit they came out with after the factory midyear TI amplifier.
Quick fuel race cap
Below GS correct doors, hidden power windows in them with lexan "glass"
Front 275 40 17 Rear 345 40 17 R Compound all 4 corners.
Below, T3 headlamps
See the aluminum fins. This is GS correct
Below.... Yes, AC on a race car! Works like the car performs too. No slouch! Vintage Air with oversize condenser.
Below, cantilever brake booster and master cyl. GS correct. Gets brakes away from engine for heat and spacing. C4 PBR system is used.
Below; GS front, GS alum grill, below the GS lightweight tube frames tow points labeled
C4 running gear but GS steel half shafts
Below, red is the Jaz fuel cell, 25 gallon. has a low floating pickup for any track condition, mallory comp pump/filter/reg, 1/2 fuel lines supply and return
Differential is C4 Dana 44 Zr1 3:45.... yes a real ZR1 had to die to get this.
Below 4" side pipes with heat shields.
Below, a stance not often seen on these that is right.. including the real 5 of these. Usually too much wheel gap, sunk or too far out wheels, this did not happen by mistake. Took lots of trial and error to get a stance than looks proportional, will track or drag, will drive right and look like a steam roller that backs what it looks like.
Below, caged in fuel cell. Date is when this car was built in its first point of time configuration, during 96. See the fuel lines, the correct rear mount battery with vintage era correct topper.
If you ever get behind this car on the road or at an event. Its one intimidating machine.
Rear equipment bay... GS had no trunk floor. This is proper.
Below TKO 600 with lakewood housing, manual link clutch, centeforce clutch system.
Custom headman headers, 2 1/8 primaries.
Daytona hood looking down.
Battery Master below
Tremic TKO 600
Above, rear deck with more of the cage shown, cross bar is tie in for 5 point racing harness, the 5th point is under car to frame. Fuel filler pipe also showm.
See the above head cage, 8 frame mounts
Current Bid : $228000.0
Our classic muscle cars for sale section lists our daily finds of the best muscle cars for sale on line. Just select the make and find your ultimate ride!
Which muscle car is right for you?
There are many reasons why you may want to invest in a muscle car. It could be a vehicle you wanted since childhood, or simply an investment, but with so many cars on the second-hand market, its best to define a few criteria before you start your hunt.
A regular driver or once in a while.
With any classic car, the more miles you put on the clock the more it will potentially depreciate. However, unless it's an expensive investment, these cars are made to be driven so decide which one you want first. A trailer queen is usually just a showpiece, while grocery getters are arguably regular drivers. You may want to show your car in the future at a car show or cruise. If you have this in mind, you will need to spend more money on the vehicle, a restoration or both. Usually, this means spending more than your average runaround.
Do you have the restoration skills?
Because we are dealing with older technology, even the best kept classic will need constant maintenance. If you're going down the restoration route you will need time, money and skill. Like most things in life, you can't do it yourself, you have to pay somebody else to do the work for you. Be honest with yourself from the beginning about this point as it could cost you in the long run. when you are deciding your budget to spend, try to factory in the cost of repair and car parts. You can find links to many classic car part vendors on our car parts page.
Budget
like it or not, your budget and finances will ultimately dictate what type of vehicle you eventually purchase and how much work you can perform on it long-term. Be realistic with a round figure and short list some potential vehicles you like. There's no point wanting a 1969 Dodge Charger R/T 440 with a rare color if you only have the financial resources to buy a mid-70s body shell. Setting a budget is very important as buying one of these vehicles is largely based on emotion with some people buying their dream car without any thought of how much the ongoing costs will be. If possible, take a step back and do some rough calculations. There's no point in buying what is your dream vehicle to get disillusioned in 12 months because costs spiraled out of control. It's much better to save for much longer, than jump in with both feet.
Know your Chevy's from your Mopars
You don't need to know every intricate detail about every make and model, but it's an idea after shortlisting a few makes and models to note what makes them individual for their particular year. Some makes and models differ hugely from one year to the next, while others only have subtle changes. For example, a 1970 Plymouth Barracuda has single headlights, while the 1971 model has dual headlights. You can find a lot of these answers on our website.
Vehicle that are easy to restore, still reasonably priced, with lots of parts available include Dodge Darts, basic Camaros, Mustangs and Chevy Novas. This may change over time, but they do make a good starting point.
Under $10,000
We are at the stage where you can't really buy that much for under $10,000, but there are still some examples out there. An early 2000 Camaro SS with higher mileage can still be bought for under $10,000. You could also include a 1980s Camaro Iroc z. You could possibly also pick up a 1968 Ford Mustang in basic condition, but for under $10,000 you are really stretching things a bit these days.
Under $20,000
As previously mentioned, you can buy a Chevy Nova SS in reasonable condition for just under $20,000. These are solid and simple to work on cars.
Oldsmobile and Mercury's give you a lot for your money at this price point, like a 1969 Oldsmobile Cutlass or even a late 60s Mercury Cougar. At this price point your in the realms of buying vehicles that can be restored, but just like completed vehicles the rarer the make and model, the more you will have to pay. You can also get some reasonable vehicles past 1972, but they don't have the kudos or value of their late 60s and early 70s versions.
Under $30,000
Like other vehicles the more you spend, the more options you have and the better the completed vehicle. You can get a nice 71 Mustang or Camaro in excellent condition or the start of some of the more premium years, such as 1969 models. If you want something like a 1970 Hemi Cuda, we have seen them for as low as $55,000 , but you'll be looking at more like $100,000. A 1969 Plymouth Roadrunner with average mileage can be got for just under $30,000, but it will require some work. 69 Road Runner muscle cars for sale in show condition will be more like a high $50,000.
Insurance
Car insurance is also a factor when it comes to owning a classic. We can't give any specific recommendations, but the likes of Hagerty, Heacock Classic and Grundy are three common insurers. Always make sure that muscle car insurance is one of their offerings and they are knowledgeable about these vehicles.  Questions to ask them are do they  offer agreed value or stated value coverage, do they require professional appraisal, do you have to provide images of the vehicle, are there liability limits, are there mileage limitations, do modifications to the vehicle affect insurance coverage, are there storage restrictions, are there driver restrictions, do they offer roadside assistance, are there any good driver discounts, how are claims submitted and can they provide references specifically for classic insurance. Insurers that are knowledgeable about these areas are the better ones to go for.
Classic Design, New Parts
You could also consider a resto mod which is essentially a classic body with modern parts. They will give you more peace of mind in theory when it comes to the mechanics of the car – new engine, better brakes and suspension. To buy a good example will probably cost you near $50,000, but we have seen examples like a 1966 Mustang with a 302ci 5.0 liter EFI for just under $30,000. You also have the option yourself of buying a donor vehicle and dropping in a crate engine with upgraded parts, but this route can become costly in the long run, especially if you have outsource all the work. Custom tuners and mod shops makes some fantastic restomods with lots of custom features, but the end cost is usually for the person who has the budget to specify exactly what they want from a car.
Each year that goes by the classics go up more in value. A 1969 Dodge Charger R/T with original powertrain in top-notch condition can cost at the beginning of 2017 anything from low $60,000 and upwards. if you want something like a 1971, Plymouth Barracuda, these can range from anything from hi $40,000 to name your price, depending on the rarity of the options. Some of the most rare optioned muscle cars are now stretching to the million-dollar mark and above. This is one of the reasons why all these vehicles from the late 60s to the very early 70s are now jumping up in price each year. A 1971 Hemi Cuda Convertible 4-Speed sold for $3.5 Million at Mecum in 2014 and a 1970 Chevrolet Chevelle SS 427 LS6 for $1.15 Million in 2013 also at Mecum auctions. These are the rarest of the bunch with the rarest options, but it does give you an idea of where the market is heading.
A good resource for finding muscle cars for sale and the current value of vehicles is Hagerty which can give you a rough idea of the value of different makes and models. Then it's a case of just keeping your eye on the listings for a short while to get a handle on current prices. Just like with other vehicles, dealers will cost you more, but you have more peace of mind if anything goes wrong. Private sellers allegedly have cheaper prices, but you have to be far more knowledgeable with what you are looking at, especially with these classic vehicles.
If you are buying a Ford then a vehicle that comes with a Marti Report will give it much more worth to its credibility and originality. For Mopars a Galen Govier recommendation is also a good sign. Broadcast sheets, back history and any other type of paperwork will also add credibility to a vehicle. Ask for the Fender tags, VIN numbers and build records. The more information a seller provides the better.




Classic Muscle Cars For Sale

,