Classic Muscle Cars For Sale
1964 Pontiac Catalina Tri-Power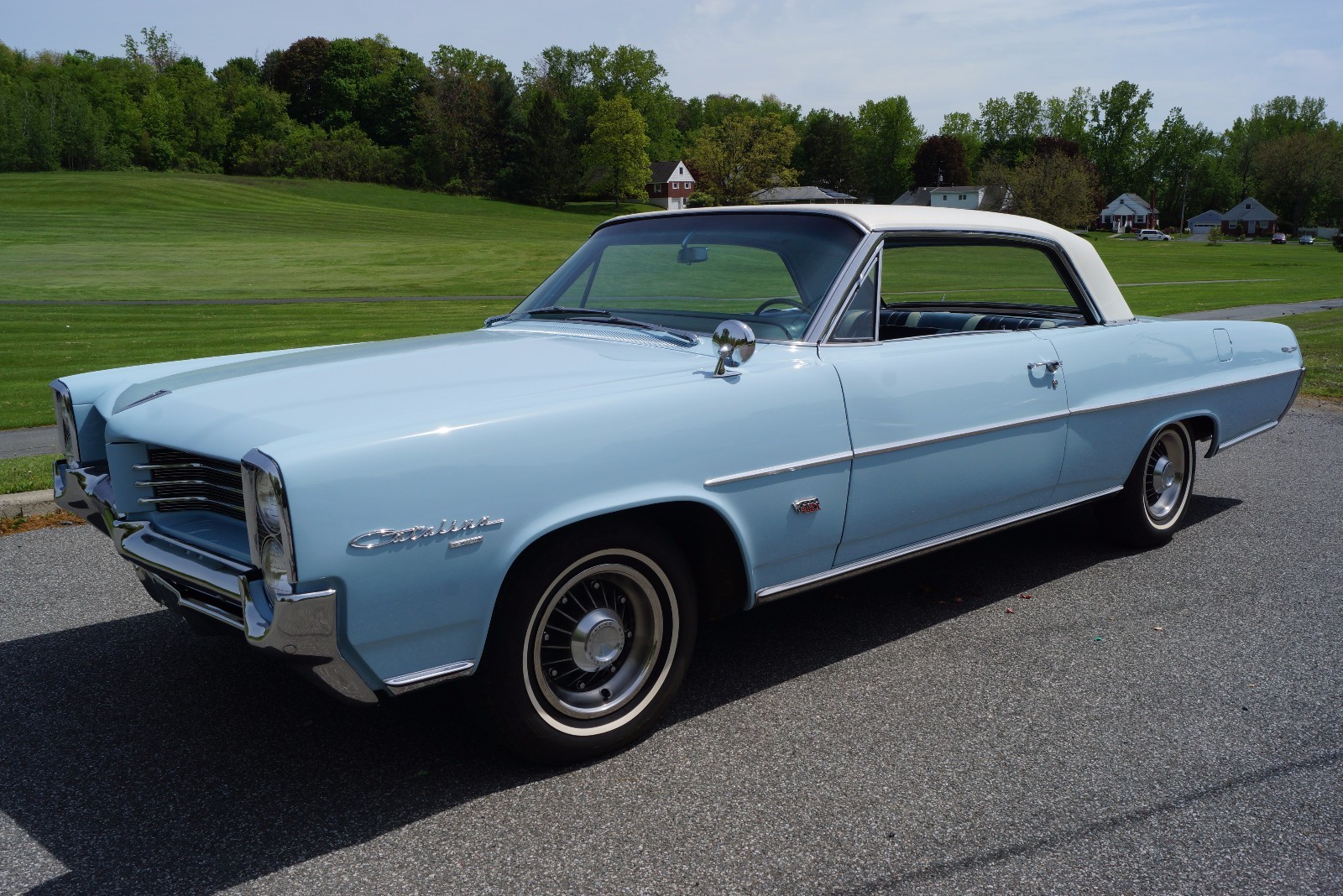 This 1964 Catalina was lovingly restored by the previous owner to a high standard with many upgrades along the way. It has been driven approximately fifteen-hundred miles since completion.
Finished in Skyline blue with a white vinyl top and Tri-tone blue interior; the colors are very striking and turn heads everywhere it goes. The original 389 big block was given a completerebuild with added tri-power and other period-correct performance mods, backed by a muncie 4-speed. Power steering, power brakes, windows, seat&antenna. A factory tachometer and rare 4-speed floor shift console with vacuum gaugecompliment the performance feel. 8-lug wheels with handsome white wall tires complete this stunning package.
The long, straight body of this Catalina coupe is a testament to the restoration quality. The finish is smooth with a brilliant shine. No expense was spared on the paint & body work which was completed over ten years ago and is still showroom quality. Exterior chrome and trim are in excellent condition as well; The vinyl top is in as-new condition.
On the interior we see more of the same excellent quality restoration combined with many NOS parts used to make everything look just right. The dash bezel, gauges and controls are all working and looking great. Seats, carpet, headliner and door panels are nearly flawless. All power options are currently working including the power driver seat and all windows.
Under the hood sits the iconic Pontiac big block. The original 389 has been dressed to resemble a factory tri-power car with correct air cleaner and all accessories. Nothing is out of place under the hood and this car runs as good as it looks. The engine starts easily with no smoke and idles very well. The rebuilt Muncie shifts through the gears smoothly with no issues. Brakes and steering were thoroughly rebuilt along with new shocks, springs and bushings as needed during the restoration. Yes, this is a tri-power car that runs great with 8-lugs that stop straight!
The undercarriage shows well with no evidence of rust repairs to the rockers, floor pans etc. The frame and suspension are in excellent shape with light surface rust consistent with a very nice original car.
Here is a Classic Pontiac that truly needs nothing. This car is ready to drive and enjoy for the summer.
518-852-2858
Current Bid : $27900.0
Our classic muscle cars for sale section lists our daily finds of the best muscle cars for sale on line. Just select the make and find your ultimate ride!
Which muscle car is right for you?
There are many reasons why you may want to invest in a muscle car. It could be a vehicle you wanted since childhood, or simply an investment, but with so many cars on the second-hand market, its best to define a few criteria before you start your hunt.
A regular driver or once in a while.
With any classic car, the more miles you put on the clock the more it will potentially depreciate. However, unless it's an expensive investment, these cars are made to be driven so decide which one you want first. A trailer queen is usually just a showpiece, while grocery getters are arguably regular drivers. You may want to show your car in the future at a car show or cruise. If you have this in mind, you will need to spend more money on the vehicle, a restoration or both. Usually, this means spending more than your average runaround.
Do you have the restoration skills?
Because we are dealing with older technology, even the best kept classic will need constant maintenance. If you're going down the restoration route you will need time, money and skill. Like most things in life, you can't do it yourself, you have to pay somebody else to do the work for you. Be honest with yourself from the beginning about this point as it could cost you in the long run. when you are deciding your budget to spend, try to factory in the cost of repair and car parts. You can find links to many classic car part vendors on our car parts page.
Budget
like it or not, your budget and finances will ultimately dictate what type of vehicle you eventually purchase and how much work you can perform on it long-term. Be realistic with a round figure and short list some potential vehicles you like. There's no point wanting a 1969 Dodge Charger R/T 440 with a rare color if you only have the financial resources to buy a mid-70s body shell. Setting a budget is very important as buying one of these vehicles is largely based on emotion with some people buying their dream car without any thought of how much the ongoing costs will be. If possible, take a step back and do some rough calculations. There's no point in buying what is your dream vehicle to get disillusioned in 12 months because costs spiraled out of control. It's much better to save for much longer, than jump in with both feet.
Know your Chevy's from your Mopars
You don't need to know every intricate detail about every make and model, but it's an idea after shortlisting a few makes and models to note what makes them individual for their particular year. Some makes and models differ hugely from one year to the next, while others only have subtle changes. For example, a 1970 Plymouth Barracuda has single headlights, while the 1971 model has dual headlights. You can find a lot of these answers on our website.
Vehicle that are easy to restore, still reasonably priced, with lots of parts available include Dodge Darts, basic Camaros, Mustangs and Chevy Novas. This may change over time, but they do make a good starting point.
Under $10,000
We are at the stage where you can't really buy that much for under $10,000, but there are still some examples out there. An early 2000 Camaro SS with higher mileage can still be bought for under $10,000. You could also include a 1980s Camaro Iroc z. You could possibly also pick up a 1968 Ford Mustang in basic condition, but for under $10,000 you are really stretching things a bit these days.
Under $20,000
As previously mentioned, you can buy a Chevy Nova SS in reasonable condition for just under $20,000. These are solid and simple to work on cars.
Oldsmobile and Mercury's give you a lot for your money at this price point, like a 1969 Oldsmobile Cutlass or even a late 60s Mercury Cougar. At this price point your in the realms of buying vehicles that can be restored, but just like completed vehicles the rarer the make and model, the more you will have to pay. You can also get some reasonable vehicles past 1972, but they don't have the kudos or value of their late 60s and early 70s versions.
Under $30,000
Like other vehicles the more you spend, the more options you have and the better the completed vehicle. You can get a nice 71 Mustang or Camaro in excellent condition or the start of some of the more premium years, such as 1969 models. If you want something like a 1970 Hemi Cuda, we have seen them for as low as $55,000 , but you'll be looking at more like $100,000. A 1969 Plymouth Roadrunner with average mileage can be got for just under $30,000, but it will require some work. 69 Road Runner muscle cars for sale in show condition will be more like a high $50,000.
Insurance
Car insurance is also a factor when it comes to owning a classic. We can't give any specific recommendations, but the likes of Hagerty, Heacock Classic and Grundy are three common insurers. Always make sure that muscle car insurance is one of their offerings and they are knowledgeable about these vehicles.  Questions to ask them are do they  offer agreed value or stated value coverage, do they require professional appraisal, do you have to provide images of the vehicle, are there liability limits, are there mileage limitations, do modifications to the vehicle affect insurance coverage, are there storage restrictions, are there driver restrictions, do they offer roadside assistance, are there any good driver discounts, how are claims submitted and can they provide references specifically for classic insurance. Insurers that are knowledgeable about these areas are the better ones to go for.
Classic Design, New Parts
You could also consider a resto mod which is essentially a classic body with modern parts. They will give you more peace of mind in theory when it comes to the mechanics of the car – new engine, better brakes and suspension. To buy a good example will probably cost you near $50,000, but we have seen examples like a 1966 Mustang with a 302ci 5.0 liter EFI for just under $30,000. You also have the option yourself of buying a donor vehicle and dropping in a crate engine with upgraded parts, but this route can become costly in the long run, especially if you have outsource all the work. Custom tuners and mod shops makes some fantastic restomods with lots of custom features, but the end cost is usually for the person who has the budget to specify exactly what they want from a car.
Each year that goes by the classics go up more in value. A 1969 Dodge Charger R/T with original powertrain in top-notch condition can cost at the beginning of 2017 anything from low $60,000 and upwards. if you want something like a 1971, Plymouth Barracuda, these can range from anything from hi $40,000 to name your price, depending on the rarity of the options. Some of the most rare optioned muscle cars are now stretching to the million-dollar mark and above. This is one of the reasons why all these vehicles from the late 60s to the very early 70s are now jumping up in price each year. A 1971 Hemi Cuda Convertible 4-Speed sold for $3.5 Million at Mecum in 2014 and a 1970 Chevrolet Chevelle SS 427 LS6 for $1.15 Million in 2013 also at Mecum auctions. These are the rarest of the bunch with the rarest options, but it does give you an idea of where the market is heading.
A good resource for finding muscle cars for sale and the current value of vehicles is Hagerty which can give you a rough idea of the value of different makes and models. Then it's a case of just keeping your eye on the listings for a short while to get a handle on current prices. Just like with other vehicles, dealers will cost you more, but you have more peace of mind if anything goes wrong. Private sellers allegedly have cheaper prices, but you have to be far more knowledgeable with what you are looking at, especially with these classic vehicles.
If you are buying a Ford then a vehicle that comes with a Marti Report will give it much more worth to its credibility and originality. For Mopars a Galen Govier recommendation is also a good sign. Broadcast sheets, back history and any other type of paperwork will also add credibility to a vehicle. Ask for the Fender tags, VIN numbers and build records. The more information a seller provides the better.




Classic Muscle Cars For Sale

,