Classic Muscle Cars For Sale
1960 Chevrolet Other Pickups Apache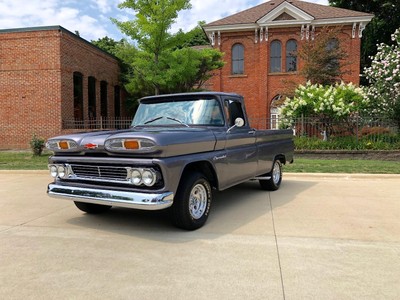 PRICE REDUCED from $18,900!
1960 Chevrolet Apache 1/2 Ton for sale - YouTube
Video will open in a new window
Using the eBay App? Paste link into a browser window:
[isdntekvideo]
1960 Chevrolet 1/2 Ton Apache Short bed Pickup
*350CI V8
*TH350 Automatic transmission
*Short bed
*Newer 15" American Racing Polished Aluminum wheels & Newer Cooper Cobra Radial GT tires $800
*New drivetrain 350-350 w/ posi rear end - all rebuilt - Cost $4500
*All new chrome bumbers, grill, door handles, mirrors total $2100
*New Lokar floor shifter $150 installed
*New power steering added $1200
*New power brakes added + brake lines $1000
*New wood bed $2000 w/ labor
*New dual exhaust and mufflers $800
*New interior carpet, sunvisors, seat replaced and rebuilt dash cluster $600
*New windshield and door glass $750
*New shocks
*New weather stripping and window felt $200
*New radiator and trans cooler $500 installed
*New Battery $100
*New Radio (vintage look AM/FM)
*Upgraded to alternator from generator and total rewire
Over $19,000 in paid in restoration on parts and labor. Paint quality is fair, it has a some touch ups and doesn't have a high dollar shine to it. Owner built to drive and enjoy. Runs and drives great.
Call Dave 586-662-0913 at Supersport Auto
*Watching doesn't buy a nice car like this..bid with confidence or call to make offers! Vehicle is for sale locally and auction may end at any time without notice to ebay. We do encourage all bidders to call before bidding to answer any questions and check availability. If you need the vehicle shipped please call for rates. All vehicles must be paid in full before shipping. Vehicle is sold as-is. We encourage that buyers inspect vehicle or arrange appraiser to come to our dealership and inspect vehicle. Michigan residents to pay 6% sales tax or anyone planning on driving this vehicle home where they cannot present a bill of laden. In those cases when registering the vehicle in your state you will receive a credit from what was paid at time of purchase. We only accept paypal for deposit due to paypal fees.OVER 90%of ourebay sales are not completed online so please call to discuss if you are a serious buyer.$95 Documentation feeon all purchases.

CALL DAVEIF YOU WANT TO NEGOTIATE A BUY IT NOW PRICE-586-662-0913 CELL.
We do not give any BUY IT NOW prices by email, but you can email or call with your questions on the vehicle or for a shipping quote. Don't get fooled by low bids, the real buyers are calling and making offers. We sell 70% of our vehicles before the auction ends..SO PLEASE CALL FOR FULL DESCRIPTION.
Supersport Auto is a licensed consignment Michigan Used Car Dealer selling this vehicle as a broker. Showdown Motors and Super Sport Auto Sales are two different/separate entities and should not be referred to as one in the same. Showdown Motors Inc. purchases its inventory from private individuals, other licensed dealers, and from auctions. These vehicles are purchased in "AS-IS" condition and shall be sold as per the terms of the "BUYERS GUIDE" presented and signed at the time of sale. We do not and cannot represent 100% authenticity unless it is available. We are happy to show our customers the engine casting number, VIN numbers, tags, engine stamping, and transmission codes, we DO NOT GUARANTEE that the motor or any other part or component is in fact the original or that it is correct for this car. There is ALWAYS the possibility of restamped motors and as technology improves there will be even more. We cannot guarantee the originality of this vehicle or any part on this vehicle, including but not limited to the Engine, the Transmission, "matching numbers", color changes, data tag, the frame or any documentation. The entire risk as to the originality and the inspection of this vehicle before purchase is up to the Buyer. Showdown Motors Inc. assumes no responsibility or liability for any typographical error that might be found in any of our advertising including the Internet. This will include any errors made in the description, color, price, or equipment listed for all being advertised for sale by Showdown Motors Inc. All prices listed on this website are discounted cash price. All sales include $95 documentation fee.

All sales are final so please feel free to do a pre-buy inspection.
Placing a Bid:Your bid constitutes a legally binding contract to purchase this vehicle. Please do not bid if you're not seriously interested or financially able to purchase this vehicle.Please read eBay's User Agreement
SUPERSPORT AUTO AND SHOWDOWN MOTORSreserves the right to:
Obtain and verify the registered information of all users who bid on this auction.
Cancel any and all bids at our discretion, or end the auction early if necessary.
Bidders Age:You must be 18 years of age or older to Bid.
If you place a bid before the last 12-hour period of the auction, you will not be allowed to retract that bid during the last 12-hour period of the auction.
If you place a bid during the last 12-hour period of the auction, you will be allowed to retract the bid for exceptional circumstances but only if you do so within one hour after placing the bid.

All shipping charges are buyer's responsibility.SUPERSPORT AUTO AND SHOWDOWN MOTORSwill help with shipping arrangements but will not be responsible in any way for claims arising from shipping damage!
Licensed Carriers are generally insured for $3,000,000.00. We assume no responsibility for damages incurred after the vehicle leaves our showroom. All shipping arrangements are provided bySUPERSPORT AUTO AND SHOWDOWN MOTORSas a courtesy. We are not affiliated with any carrier. Any claims or other communication regarding shipment of vehicles will be between you and the shipper, not withSUPERSPORT AUTO AND SHOWDOWN MOTORS.
The amount of time it takes for delivery is dependent on the carrier, but is generally 7-14 days from the date the vehicle is picked up from our facility until it is delivered to your destination. Verify with the shipper for an Estimate Time of Arrival to be sure.


Fee and Tax Information:

Buyers Inspection:American Dream Machineshas done our best to disclose all information known about this vehicle for auction.SUPERSPORT AUTO AND SHOWDOWN MOTORSwelcomes a buyers inspection. If you plan to have a buyers inspection, please make sure you inspect the vehicle prior to the auction ending. Inspection fees if any are Buyers responsibility.
Representations and Warranties made by seller:This vehicle is being sold "as is". Manufacturers warranties may still apply. Extended warranty may be available. No representations or warranties are made by seller, nor are any representations or warranties relied upon by bidders in making bids.
Taxes and Registration fees: Allbuyers are responsible for all state, county, city taxes and fees, as well as title service fees in the state that the vehicle will be registered. All taxes and fees must be paid in full in order for vehicle to be titled and registered
Current Bid : $14900.0
Our classic muscle cars for sale section lists our daily finds of the best muscle cars for sale on line. Just select the make and find your ultimate ride!
Which muscle car is right for you?
There are many reasons why you may want to invest in a muscle car. It could be a vehicle you wanted since childhood, or simply an investment, but with so many cars on the second-hand market, its best to define a few criteria before you start your hunt.
A regular driver or once in a while.
With any classic car, the more miles you put on the clock the more it will potentially depreciate. However, unless it's an expensive investment, these cars are made to be driven so decide which one you want first. A trailer queen is usually just a showpiece, while grocery getters are arguably regular drivers. You may want to show your car in the future at a car show or cruise. If you have this in mind, you will need to spend more money on the vehicle, a restoration or both. Usually, this means spending more than your average runaround.
Do you have the restoration skills?
Because we are dealing with older technology, even the best kept classic will need constant maintenance. If you're going down the restoration route you will need time, money and skill. Like most things in life, you can't do it yourself, you have to pay somebody else to do the work for you. Be honest with yourself from the beginning about this point as it could cost you in the long run. when you are deciding your budget to spend, try to factory in the cost of repair and car parts. You can find links to many classic car part vendors on our car parts page.
Budget
like it or not, your budget and finances will ultimately dictate what type of vehicle you eventually purchase and how much work you can perform on it long-term. Be realistic with a round figure and short list some potential vehicles you like. There's no point wanting a 1969 Dodge Charger R/T 440 with a rare color if you only have the financial resources to buy a mid-70s body shell. Setting a budget is very important as buying one of these vehicles is largely based on emotion with some people buying their dream car without any thought of how much the ongoing costs will be. If possible, take a step back and do some rough calculations. There's no point in buying what is your dream vehicle to get disillusioned in 12 months because costs spiraled out of control. It's much better to save for much longer, than jump in with both feet.
Know your Chevy's from your Mopars
You don't need to know every intricate detail about every make and model, but it's an idea after shortlisting a few makes and models to note what makes them individual for their particular year. Some makes and models differ hugely from one year to the next, while others only have subtle changes. For example, a 1970 Plymouth Barracuda has single headlights, while the 1971 model has dual headlights. You can find a lot of these answers on our website.
Vehicle that are easy to restore, still reasonably priced, with lots of parts available include Dodge Darts, basic Camaros, Mustangs and Chevy Novas. This may change over time, but they do make a good starting point.
Under $10,000
We are at the stage where you can't really buy that much for under $10,000, but there are still some examples out there. An early 2000 Camaro SS with higher mileage can still be bought for under $10,000. You could also include a 1980s Camaro Iroc z. You could possibly also pick up a 1968 Ford Mustang in basic condition, but for under $10,000 you are really stretching things a bit these days.
Under $20,000
As previously mentioned, you can buy a Chevy Nova SS in reasonable condition for just under $20,000. These are solid and simple to work on cars.
Oldsmobile and Mercury's give you a lot for your money at this price point, like a 1969 Oldsmobile Cutlass or even a late 60s Mercury Cougar. At this price point your in the realms of buying vehicles that can be restored, but just like completed vehicles the rarer the make and model, the more you will have to pay. You can also get some reasonable vehicles past 1972, but they don't have the kudos or value of their late 60s and early 70s versions.
Under $30,000
Like other vehicles the more you spend, the more options you have and the better the completed vehicle. You can get a nice 71 Mustang or Camaro in excellent condition or the start of some of the more premium years, such as 1969 models. If you want something like a 1970 Hemi Cuda, we have seen them for as low as $55,000 , but you'll be looking at more like $100,000. A 1969 Plymouth Roadrunner with average mileage can be got for just under $30,000, but it will require some work. 69 Road Runner muscle cars for sale in show condition will be more like a high $50,000.
Insurance
Car insurance is also a factor when it comes to owning a classic. We can't give any specific recommendations, but the likes of Hagerty, Heacock Classic and Grundy are three common insurers. Always make sure that muscle car insurance is one of their offerings and they are knowledgeable about these vehicles.  Questions to ask them are do they  offer agreed value or stated value coverage, do they require professional appraisal, do you have to provide images of the vehicle, are there liability limits, are there mileage limitations, do modifications to the vehicle affect insurance coverage, are there storage restrictions, are there driver restrictions, do they offer roadside assistance, are there any good driver discounts, how are claims submitted and can they provide references specifically for classic insurance. Insurers that are knowledgeable about these areas are the better ones to go for.
Classic Design, New Parts
You could also consider a resto mod which is essentially a classic body with modern parts. They will give you more peace of mind in theory when it comes to the mechanics of the car – new engine, better brakes and suspension. To buy a good example will probably cost you near $50,000, but we have seen examples like a 1966 Mustang with a 302ci 5.0 liter EFI for just under $30,000. You also have the option yourself of buying a donor vehicle and dropping in a crate engine with upgraded parts, but this route can become costly in the long run, especially if you have outsource all the work. Custom tuners and mod shops makes some fantastic restomods with lots of custom features, but the end cost is usually for the person who has the budget to specify exactly what they want from a car.
Each year that goes by the classics go up more in value. A 1969 Dodge Charger R/T with original powertrain in top-notch condition can cost at the beginning of 2017 anything from low $60,000 and upwards. if you want something like a 1971, Plymouth Barracuda, these can range from anything from hi $40,000 to name your price, depending on the rarity of the options. Some of the most rare optioned muscle cars are now stretching to the million-dollar mark and above. This is one of the reasons why all these vehicles from the late 60s to the very early 70s are now jumping up in price each year. A 1971 Hemi Cuda Convertible 4-Speed sold for $3.5 Million at Mecum in 2014 and a 1970 Chevrolet Chevelle SS 427 LS6 for $1.15 Million in 2013 also at Mecum auctions. These are the rarest of the bunch with the rarest options, but it does give you an idea of where the market is heading.
A good resource for finding muscle cars for sale and the current value of vehicles is Hagerty which can give you a rough idea of the value of different makes and models. Then it's a case of just keeping your eye on the listings for a short while to get a handle on current prices. Just like with other vehicles, dealers will cost you more, but you have more peace of mind if anything goes wrong. Private sellers allegedly have cheaper prices, but you have to be far more knowledgeable with what you are looking at, especially with these classic vehicles.
If you are buying a Ford then a vehicle that comes with a Marti Report will give it much more worth to its credibility and originality. For Mopars a Galen Govier recommendation is also a good sign. Broadcast sheets, back history and any other type of paperwork will also add credibility to a vehicle. Ask for the Fender tags, VIN numbers and build records. The more information a seller provides the better.




Classic Muscle Cars For Sale

,