Best Muscle Cars
'Little Red' 1967 Ford Mustang Shelby GT500 Found After 50 Years
By
|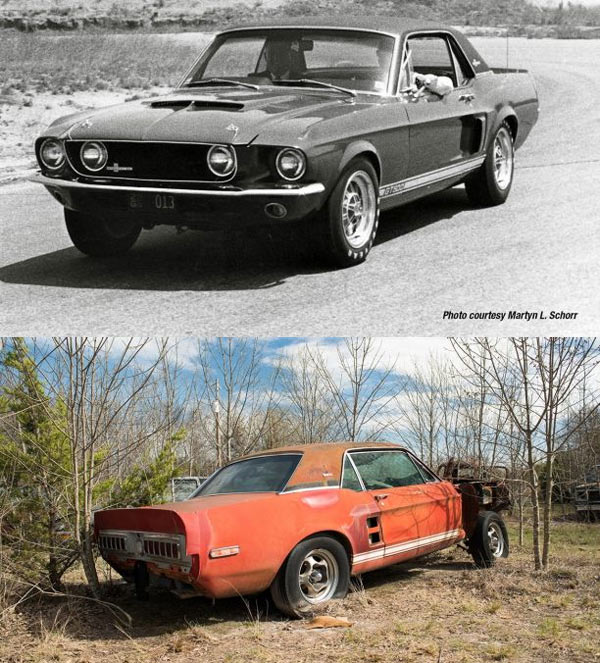 Just when you thought all the muscle car rarities have been found, another pops up and in this case its the 'Little Red' 1967 Ford Mustang Shelby GT500. The ultra-rare GT500 EXP was recently found in a Texas field and is now on its way to be fully restored along with potentially being worth a huge chunk of money.
The 1967 car was originally an experimental vehicle loaned to Carroll Shelby from Ford for testing with performance parts. This one, along with another known as the Green Hornet were the only two Shelby GT500 notchback coupes both along with a vinyl roof of that era. The Green Hornet survived first showing up at a 1971 Ford employee auction, finally being owned by Craig Jackson Barrett-Jackson Auction House CEO 15 years ago. Little Red had long been thought to have gone to the crusher, as was the way with many prototype vehicles back then.
Barrett Jackson and classic car specialist Jason Billups found Little Red's original VIN number and use that instead of the Shelby-issued serial number to track down the car to rural Texas. Kevin Marti verified the authenticity of the car one found, which is now in quite bad shape, missing the powertrain and front panels, along with some parts been stolen in the past and left out to weather for many years.
Now in the hands of Jackson, Little Red is on its way to be fully restored and a website has been set up to document its rebuild and to crowd source any information concerning the car. The Green Hornet car went up for auction in 2013 with bidding not reaching the reserve price, even though it hit $1.9 million. Little Red could eventually be worth the same.
Little Red 1967 Ford Shelby GT500 EXP Prototype vital stats. –
The only GT500 coupe (hardtop) built by Shelby American.
The only GT coupe ordered with factory equipped with dual-quad carburetors.
The 2nd GT500 to be serialized and completed.
The inspiration for the 1968 Mustang California Special.
One of two known 1967 GT cars to be outfitted with a black Connolly leather interior.
On July 31, 1967, Shelby American valued the coupe at $3,318.84
The only 1967 Mustang coupe factory-equipped with a 428ci engine
More Muscle Cars For Sale – http://fastmusclecar.com/muscle-car-for-sale/
'Little Red' 1967 Ford Mustang Shelby GT500 Found After 50 Years

,