Best Muscle Cars
An Incredible 1965 Shelby 427 Kirkham Cobra Roadster
By
|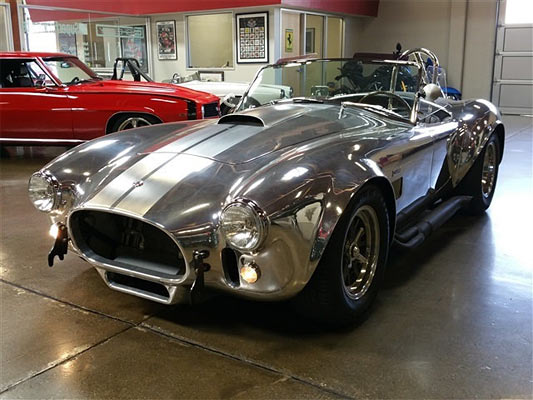 BUY NOW 1965 Shelby 427 Cobra Roadster
You may say that a Cobra Roadster built in 2005 to replicate a 1965 version is quite pricey at $160,000 and you would be correct.
However, this is an official version with a no expense spared build. Parts are correct as per the original Cobra roadster, such as the 427ci. engine. Plus, these cars hold their price.
They appeal to a smaller market than the average classic car buyer, but you get all the power and fun of a Cobra roadster, with the reliability of modern parts and engineering.
This is an incredible looking machine which could take pride of place in anybody's garage.
Considering the originals now cost millions, this pricetag may not seem that outlandish.
Engine: Ford 427
Transmission: Tremec 5 speed Manual.
Exterior Color: Polished Aluminum.
Mileage: 1,335.
VIN: KC4ESLC0362
Price: US $160,000.00
Tony Oddo Built Shelby Aluminum Engine. Specially configured for similar HP and Torque to original FE Side Oiler Engines.
Crankshaft – Forged
Rods – Forged
Pistons – JE
Camshaft – Crower Roller
Lifters – Crower Roller
Rockers – Crane Roller
Heads- Shelby Aluminum
Intake – Edlebrock 7105
Cathedral Bowl Carburator as Original
Distributor as Original with electronics upgrade
Harmonic Balancer and Pulleys as Original
Turkey Pan as Original
Spellings and Handing Air Cleaner
Oil Pan – Aviaid
Remote Oil Filter- As Original
Cubic Inches – 482
Compression Ratio -9 to 1
Fuel – 91 Octane
Drive Train
TKO 5 Speed Transmission
Suspension – Penske Adjustable Shocks
Interior
Derby Black Leather
Wilton Wool Carpet, Interior and Trunk
Custom Battery Cover
Exterior
Highly Polished Exterior with Brushed Lemans Stripe
Highly Polished under hood with custom Black Epoxy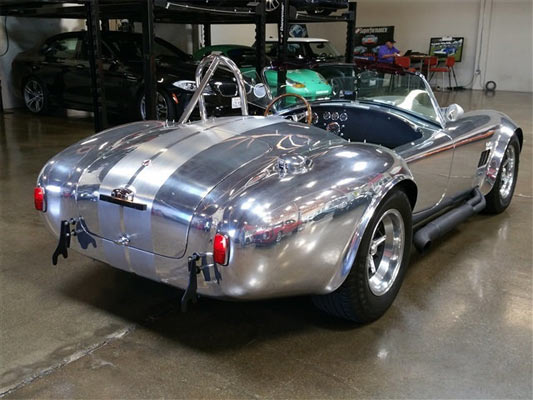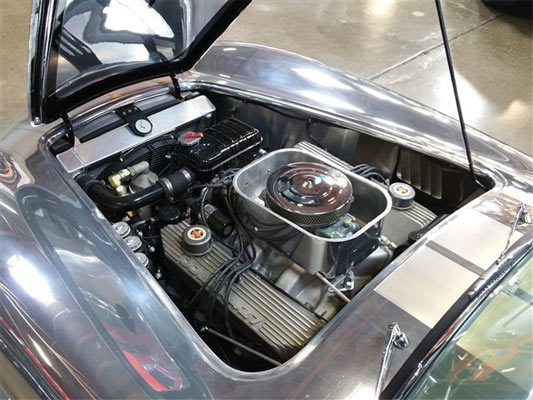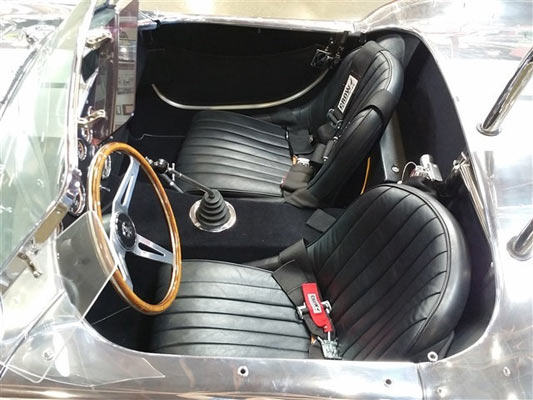 BUY NOW 1965 Shelby 427 Cobra Roadster
More Muscle Cars For Sale – http://fastmusclecar.com/muscle-car-for-sale/
An Incredible 1965 Shelby 427 Kirkham Cobra Roadster

,