Best Muscle Cars
Genovation GXE Electric Corvette Costs $750,000
By
|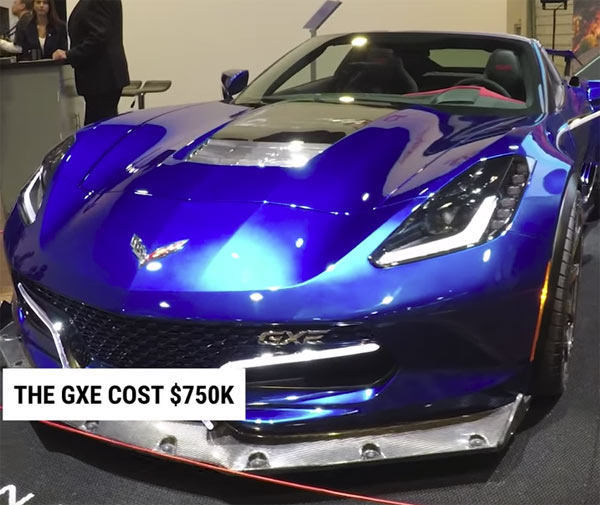 By Dave Ashton
Electric vehicles are clearly on the march forward and when it comes to high-performance vehicles, many current solutions are retrofitting existing muscle cars or the like. Genovation are one such company who take a Corvette, add an electric motor, keep the existing transmission and essentially have a electric supercar called the 'GXE.'
The video below gives you a good overview of the vehicle – the 6.2L engine is replaced by an electric motor and five battery packs are added with an increase of 4,100lbs in weight, but all adds up to over 800 hp, 700lb. ft. of torque and good for 0 to 60 mph in three seconds and a top speed of 220 mph. Keeping the seven speed transmission allows for just as much fun as a regular car rather than just the one gear ratio in standard electric vehicles. The problem is the asking price of $750,000, which equates to the equivalent of buying 6 Corvette ZR1's for the same money. However, only 75 of these will be made and should be available by the fourth quarter of 2018.
Labelling this car as the fastest seems to have near competitors with the Tesla roadster being able to apparently hit 250mph at $140,000.00. Also, a Dodge Demon are only $80,000 has 840 HP. However, the GXE Does still have a manual transmission to keep it more like a traditional vehicle. But like anybody, the asking price of $750,000 seems phenomenal.
The comparison with what you can get for the same amount of money seems obvious at first, but across the board current conversions to electric vehicles are very expensive and buying into the early stages of any technology you will be paying a premium, it's just the way it goes. With only 75 examples being made it's in the ultra-exclusive category anyways, so those with deep enough pockets to afford this car and know it will potentially hold its value would be interesting parties. In other words, the price come secondary to its exclusivity.
Basically, this is one of those vehicles as a stepping stone along the way for the technology. It will be interesting to come back to this vehicle in 10 years and see how it slots in along the road of electric and performance vehicles. You can find out more about their vehicle here on their YouTube channel – https://www.youtube.com/channel/UCITd_Se_Kyfne-su2cdqByg/videos
More Muscle Cars For Sale – http://fastmusclecar.com/muscle-car-for-sale/