Best Muscle Cars
A Ford Falcon Beauty
By
|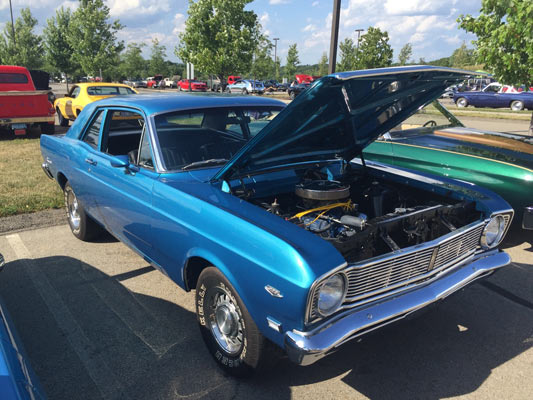 By Mark Weisseg
A friend of mine for many years owns this Falcon. For some reason he rarely drives it even though it runs and looks great. Dan has a gold one as well and it is as equally nice. He restored this car a long time ago, over thirty years ago at this stage. It's only been about five years ago now he reconstructed his garage so he could put in an electric lift. He said we are just getting too old to be crawling around on our backs and using jack stands. The mechanics creeper has become our enemy at this stage of life so he made the move.
The car as we know it was the basis of the Mustang. Ford tried to make the Falcon its new hot sports car back in the day but the public already knew the Falcon name and history. It started out as boxy and landed up like this one. So, Ford was forced to come up with a new design and a new name. I hope FCA is taking notes now!
Anyway, Dan loves this Falcon and all night long he was barraged with questions from the curious. Near the end of the night he floored me with one of those statements we all love to hear, " Did I tell you about my Mustang?" Of course I said No and he whips out pictures of a 66 Mustang Fastback with a 289 in it. I got whoozy as I never caught wind of this one. Turns out it was a local find, parked in the back of the garage behind two other cars and was parked sideways. Dan bought it as soon as he saw it. No questions asked and he paid the asking price. As I am flipping through the pictures I can feel the blood returning to parts of my body in which we can not discuss. A 66 gold colored Mustang fastback? Right near us within 12 miles? So much for that BS that all to good cars have been found. He said he is going to start a full restoration that should take him 2-3 years. He is going to buy a rotisserie very soon for obvious reasons. I could not remember my name or what I drove there but I offered any and all assistance. I took down Dans new email address and said I would call him after the car show season as I want to go see this car. Dan lives about 5 miles from me.
How did he hear about the car? Well, he overheard two guys talking and like any car guy interrupted them and the rest is history. Here I was drooling over a well done Falcon and just about to leave when he sprung this on me. All because he asked me where my Road Runner was this evening. I told him at home covered up. He was disappointed as he wanted to see it so I made a promise to him to let him see it at my house soon. Then, he drops the A bomb on me. I am still not sure I am over it but I cannot wait to push past his two cool Falcons to get my hot hands on that 'Stang. The cow may have jumped over the moon in the children's book but I was thinking, Jack be nimble, Jack be quick…. Because falling into deals like this means you need to be Johnny Lightening quick.
More Muscle Cars For Sale – http://fastmusclecar.com/muscle-car-for-sale/
A Ford Falcon Beauty

,