Best Muscle Cars
Find Of The Day: 1970 Chevrolet Chevelle SS 396
By
|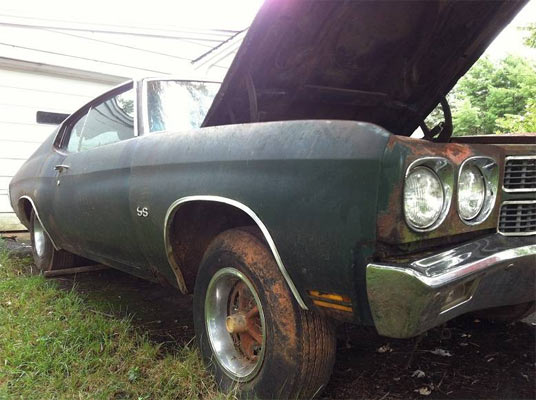 VIN #: 136370A104263
Mileage: 125000
Transmission: Auto
Price: $5,000
Usually, when I come across a 1970 Chevrolet Chevelle SS, we say save it straightaway, don't think put your money down, but in this case, you may think twice once you see the condition of this ride. The car is currently located in Lynchburg, Virginia and for sale on hemmings.com for $5,000.
The first thing here is that there is no engine and the floor pan is truly rusted out, along with rusting around the drivers and rear seats and rear window. In other words, take it as read that whoever takes on this project needs to be a black belt in welding to get this ride back in order.
The body panels don't look as affected by rust, but they all clearly will all need taking back down to the metal for a thorough restoration. On the plus side, there are engine bay components in place like the intake, carb, fan, oil pan, radiator and fan which will give its next owner an initial start.
The interior is as you would expect for a car that has been sat for decades, but at least many of the interior items such as the dash look salvageable.
It's clear that this Chevelle will need a complete groundup restoration job, but any 1970 Chevelle that is found is potentially worth restoration and should be as you can't really do that much better for a classic era muscle car. They just sum up everything that was great about the era, this one no exception, especially after it is eventually restored. Will you take the plunge?
Original ad. –
'1970 SS 396 Chevelle, Automatic, AC, PS, PB. $5,000
Real SS 396 Chevelle. The car has been sitting since 1980. The engine is missing and the floor pan is rusted out. It's also rusted around the rear window. On the plus side this car is well optioned for comfort and power. The intake, carb, fan, oil pan, radiator and fan shroud are included. Good title.'