Best Muscle Cars
The Chicago Auto Show Overview
By
|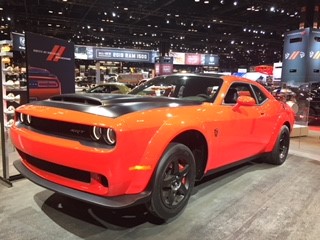 By Mark Weisseg
Chicago is the home of the nations largest and longest running auto show every year. Situated at the gigantic McCormick Place along Lake Michigan is where every OEM brings the best.
The venue is so large it is split in half via the North and South buildings. Once inside you will quickly discover all the latest cars and trucks for your viewing pleasure. Sure you will also see concept vehicles and vehicles from our past to ponder. In one corner look for the Chicago Police Departments display. They brought a selection of police cars from the 1970's, 80's and up to the current. It's a bit funny to see a 70's Fury with a 318V8 as one of the units. There is a sad tone however right now as the Police and the community are mourning the death of one of the cities officers.
Moving to another section you can drive a new Dodge Demon! Yes, all 840 horses are unleashed to get that front end off the ground. Let me explain. Two side by side Demons are sitting and waiting for you to strap in and drag race them. As you sit in the car the entire car is rumbling at idle. You feel it in the seat of your pants and as you grip the wheel. As the Christmas tree lights cycle down from red to green you prepare yourself to be launched. When the light hits green off you go. Yes, the front end lifts off the ground and it's you that need to use the paddle shifter to get yourself down the drag strip. So for all of you that dream of driving the most powerful street legal car ever this is your chance.
Now, once your heart stops racing you can wander around and take a look at the ZR1, or maybe the new hot rod Camaro. Not to be outdone, Ford has the new Bullit on hand as well as a Mustang that you can climb into as well. Once again you simulate your experience down the drag strip. You feel the rumble, you hear the exhaust, and once you nail the pedal the entire crowd around the car will hear you launch. All of these experiences are so much fun.
Of course on the tamer side you can stroll around and look at SUV's CUV's, Trucks, Vans, and everything in between. The entire show is about your experience. The event has areas for your little ones to enjoy as well such as a small electric go cart to start them off in the world of the automobile. Most of the adults wonder what a child born today will drive years from now. It's a question yet to be answered.
So, our journey ends this year but I would suggest adding Chicago to your Calender for next years big show. It's worth every penny.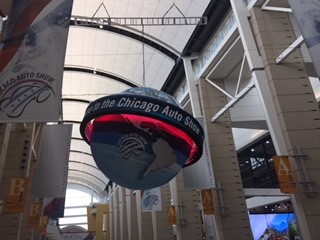 More Muscle Cars For Sale – http://fastmusclecar.com/muscle-car-for-sale/