Best Muscle Cars
How To Care For Your Muscle Car Chrome
By
|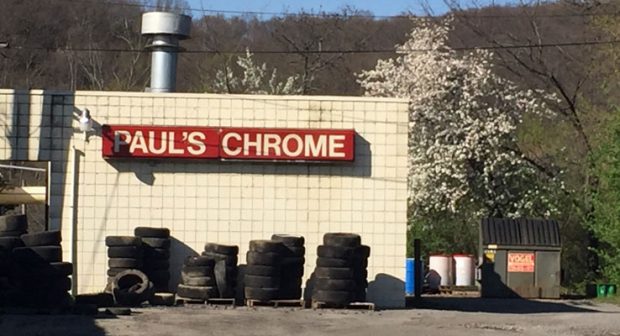 By Mark Weisseg
Please do NOT let the picture fool you. I took this picture from my Road Runner in a hurry. Just to the left of this shot is a beautiful chrome sign outside a very nice facility that obviously says "Pauls Chrome". If the folks at Pauls complain I will return and take a better picture but this place is known worldwide for top quality chroming.
The facility is about ten minutes from my current home and has been there for at least twenty five years. It is in a small town and they are great neighbors and sponsors of the local community. My purpose today is to talk about chrome and its care.
My cars chrome was done before I bought the car and whoever did it should be proud. However, I saw the coolest thing the other day on chrome. The company was spraying a product that that they claim was chrome. From what I was always was taught regarding chrome was that it is a labor intense product, very technical in nature, and the average guy should NOT try it at home.
They use some very strong chemicals and bathe products for a long time to get it right. So, I will look into this story chrome process, but for now I would say to send anything you want to be chromed to Pauls Chrome. Is Pauls Chrome paying me? Heck no, I have never met a soul there and only see there work at car shows. I see Fred the current owner on TV once in a while and he appears to be a very smart guy. I just wanted to warn against cheap chrome from foreign lands or aftermarket products that will not stand the test of time. It's very tempting to save money and utilize another way to get the best results but you folks know better. You get what you pay for.
Companies like Pauls Chrome is an example of dedicated people bringing you the best products and services at reasonable prices. Clearly they are doing something right by being in business this long in this small town of Evans City, Pa.
If you want a long lasting job that is one hundred percent perfect you need to send your parts to Pauls Chrome. If it comes out of the tanks and there is any imperfection they start all over and get it right. Yes, it will cost you more but do you want flaking or rust developing in a year or two just so you can say you saved a few bucks?
There are many products on the market for cleaning and maintaining your chrome work. The link here is to a variety of products which you can buy which include both cleaning and maintaining items. We can't recommend any particular one, but the main thing to keep in mind is not just polishing but to keep the moisture at bay. After polishing and buffing your chrome work, apply a healthy layer of wax or similar, which will act as a barrier to the elements. This is the main key here. If you get the slightest blemish in your chrome work. It can be a nightmare, so prevention is better than cure. Remove dirt, clean, polish then protect and you should have chrome work that will last for years.
For all muscle car parts – http://fastmusclecar.com/muscle-car-parts/