Best Muscle Cars
Buy Of The Day, 1971 Plymouth Barracuda Hemi
By
|
Buy Of The Day, 1971 Plymouth Barracuda Hemi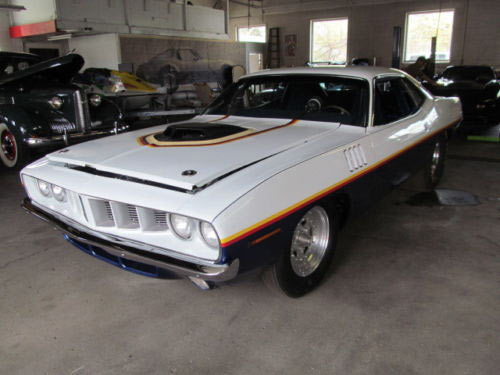 Current bid: US $17,600.00 as of 4th May 2015 6d left.
This seems to be a fresh listing for a 1971 Plymouth barracuda.
It was the starting price that caught my eye, but obviously this will rise significantly until the auction end.
Plenty of dollars has been spent on this ride to make it the best it can be.
A great starting price and if you are in the market for a Barracuda or classic muscle car in general, this could be an option.
'This Is Truly One Unique and Expensive Hot Rod to Build! IT Took over 18 Years and $150,000 on the Owners Own Time and Money to Build.'
'The Owner Found IT in a New Mexico Newspaper Which He Called on and Made a Deal with the Owner.
He Jumped in His Truck and Trailer and Went There and Brought IT Back Personally.
IT Was Rust Free. Doing This and Working As an Engineer AT Chrysler, He Was Surrounded by the Original RAMCHARGER's. He Then Wanted to Have the Fastest 71' HEMI Street CUDA.
Engine: the Engine Was Built by No Other Than the Famous RAMCHARGER Super Stock Record Holder, Dean NICOPOLIS!
The Balanced and Blueprinted HEMI Is Built to SS/DA or SS/EA Specs. IT Is a 66 HEMI Block Bored 40 over.
12:5 to 1 Compression Pistons That Were Lightened and Teflon Coated.
Brand-New HEMI Racing Crank and Aluminium Lightweight Rods. Full Grooved Bearings.
A LUNATI Custom Ground Roller Cam to Dean NICOPOLIS Specs. 790 Lift.
HEMI Heads Done to Super Stock Specs. Stainless Steel Valves. Titanium Retainers. Manley Valve Springs with 10° Locks. Custom Length Push Rods. Dick Landy 1:5 Roller Rockers. Custom Ported Rat Roaster Intake. Custom Built 1971 HEMI Racing Carter AFB Carbs #4970, #4971. DONOVON HEMI Gear Drive. Eight QT. Racing PAN from Charlies. MSD Ignition with a Two Step Seven Al Box. Moroso Crank Trigger.
This Engine Is Hand and Custom Built from Head to Toe. IT Was Built to Drive on the Street As Well As to Run on the Track
the Trans Is a Custom Built to Car Specs 727 to Handle 1500 HP ATI 4000 4500 Stall Converter. B & M SFI Approved Flex Plate.
Rear End Is a Strange Narrowed Dana 60. Strange Axles and SPOOL. 538 Gear. Koni Coil over Racing Shocks Front and Rear. Lamb Racing Four Wheel Disc Brakes. Chassis: MPR (Mike PUSTELNY Racing) of Almont, Michigan Did the Car and Chassis.'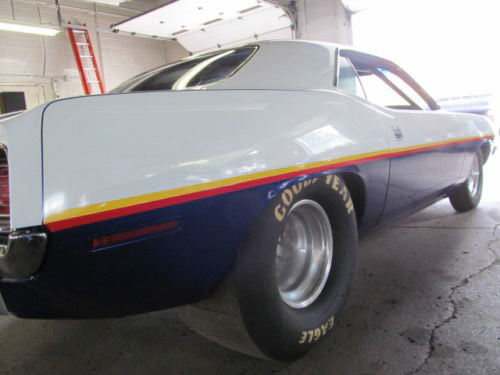 Click for More Muscle Cars – http://fastmusclecar.com/muscle-car-for-sale/