Best Muscle Cars
Buy Of The Day, 1969 Chevrolet Chevelle COPO 427, Must See!
By
|
Buy Of The Day, 1969 Chevrolet Chevelle COPO 427, Must See!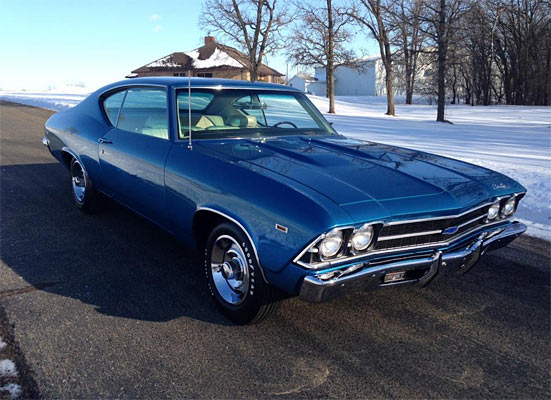 For some reason, it is Copo's make me the most excited when it comes to an ultra-rare muscle car.
Matching numbers, original paint and all original options.
If you are serious about your muscle cars, this one is definitely worth a look.
Here is one you cannot pass by, a triple COPO optioned 69 Chevelle COPO – 9562, 9694 & 9737.
Extremely RARE car only 323 Factory COPO 427 Chevelle's were built, 99 of them were sent to Yenko and sold as Yenko Chevelle's and Approx. 17-22 were sent to Canada as Export cars this is one of those cars. COPO Chevelle's are about 3 times as rare as COPO Camaros and rarely come up for sale. Almost all Triple optioned COPO's were turned into Yenko's very few were built that were sold with all 3 COPO options.
Restored in its original color of Code 71 Lemans Blue with correct parchment white interior (ONE OF THE BEST COLOR COMBINATIONS MADE).
Body and Paint are as good as it gets! Car is LASER STRAIGHT and gaps are PERFECT there is not a blemish on the entire body its as good as it gets. Interior is also all new with Ted Williams door panels, all gauges work and are correct, clock has been quartzed, radio and all lights work, dated seat belts etc.. everything is new or restored and works as it should. All Chrome and Trim is also perfect, original bumpers were replated, all Glass is new tinted with date codes from Auto City, 4 original T3 headlights, Original YH coded and correct dated wheels (all 5), correct reproduction Goodyear Wide Tread GT tires.
OPTIONS INCLUDE:
Factory L72 427/425HP Engine, M40 3 speed Automatic, 4:10 Posi, Tinted Glass All, Floor Mats, Remote Mirror, Power Windows, Chambered Exhaust, Power Steering, Bumper Guards, 9737 LE: Sports Car Conversion 15×7 Rally Wheels, 9652 DE: J50 Power Brakes, J52 Disc Brakes, U14 Gauge Package, Am Radio, Rear Speaker, Clock.
Engine Component Numbers and Dates:
Block: Cast Number: 3963512 Cast Date: B 4 9 (Feb 4th 1969) Stamp: T0625MP 19B407263 (Tonawanda June 25th, 427/425Hp Auto & VIN)
Heads: Cast Number: 3919840 Cast Date: L 30 8 & C 18 9 (Dec 30th 1969 & March 18, 1969)
Intake Manifold: Cast Number: 3933163 Cast Date: 2 24 69 (February 24th 1969)
Distributor: Part Number: 1111499 Date: 9 F 17 (June 17th 1969)
Carburetor: New Holley Correct List 4346 3959164-GE
Exhaust Manifolds: Cast Number: Left 879 & Right 178 Cast Date: Left J 9 8 (Oct 9th 1968) Right C 27 9 (March 27, 1969)
Alternator: Part Number: 1100837 37A CZ with Deep Grove Pulley Dated: 9 F 17 (June 17th 1969)
Water Pump: Cast Number: GM5 3969811 TX Date: E 7 9 (May 7th 1969)
Clutch Fan: Part Number: 3947772 Date: E 69 (May of 1969)
Crank Pulley: Part Number: 3955291 AB Deep Grove (L78 & L72)
Water Pump Pulley: Part Number: 3947824 BV
Smog Pulley: Part Number: 3932458 DA
Smog Tube: Part Number: 3942533
Diverter Valve: Part Number: 29297 GH (Original Rebuilt)
Smog Check Valves: Part Number: 5361992
Water Neck: Part Number: 3877660
Brake Booster Part Number: 9391 Date Code: 070 (70th day of 1969= March 11, 1969)
Starter: Rebuilt AC DELCO
Date Coded Spark Plug Wires
Reproduction Belts with Correct Part Numbers
Rear Axle:
Original KQ Code 4:10 Posi Traction
Axle Stamp Date: 0619B (June 19th Buffalo)
Cast Number: 3959038NF
Cast Date: F 2 9 (June 2 1969)
Brake Drum Cast Number: 3841177 Cast Dates: C 6 9 & C12 9 (March 6th & March 12th 1969)
Transmission:
Correct Turbo 400 with CX Tag.
The Transmission has the VIN number stamped on it 19B then the last 6 digits of VIN 407263.
The Transmission Tag is stamped 69X535 for the 535th day decoding as June 19th 1969.
Then its stamped CX-69-4011 this decodes as CX Transmission, 1969 Model Year, 4011th Produced CX Transmissions for that ear.
The Date Code on the Main Case is March 10, 1969. The Date Code on the tail shaft is 4th week of February 1969. Also has original Stewart Warner gear reducer on transmission Part Number: 666F Z3 .8241C.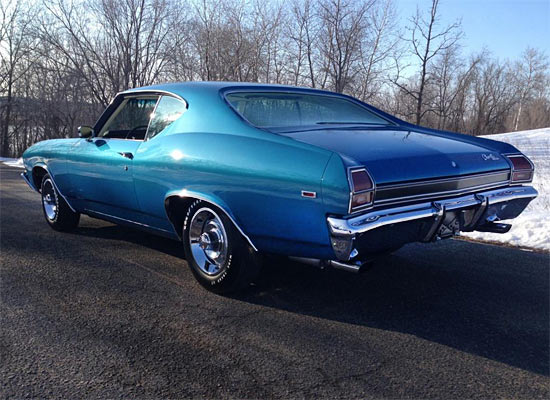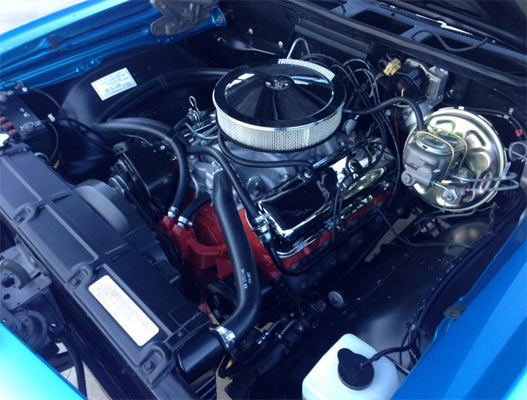 Click for More Muscle Cars – http://fastmusclecar.com/muscle-car-for-sale/
Donate To Fast Muscle Car
We spend a lot of time bringing you muscle car content. If you would like to donate something to help us keep going, that would be fantastic.
Buy Of The Day, 1969 Chevrolet Chevelle COPO 427, Must See!

,