Best Muscle Cars
5 Reasons Classic Muscle Cars are Better Than New Ones
By
|
Whether you are a car savant or a just an admirer of attractive machines, classic muscle cars have that special kind of pull on you.
I have personally felt that pull for as long as I can remember. Whether it was because of my avid admiration for all things NASCAR, my love for the entire Fast and Furious franchise, or the temptation that all things prohibition-esque hold for me, classic muscle cars have always held a special place in my heart.
Just in case you're on the ropes about buying one for yourself, here are five reasons I feel that you should definitely take that leap.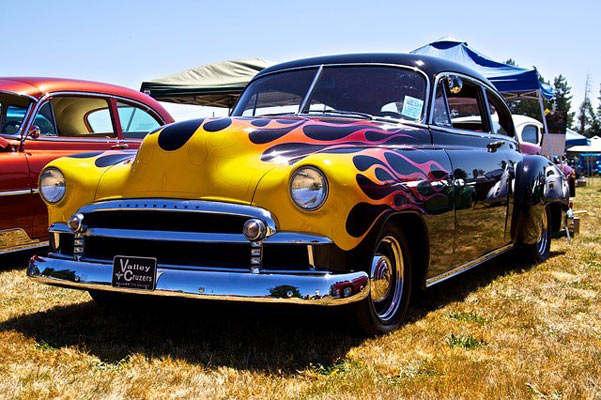 Depreciation is not an issue
When you buy a brand new car, even if it is a shiny new muscle car, it loses an average of 10% of it's original value the second you drive it off the lot. The value will continue to diminish for a while before you can finally build some equity, especially if you've taken out a long term auto loan to pay for it.
Even when you buy a used car, you still run the risk of depreciation. Trends are constantly changing and what's hot one year can be boring the next.
Except when it comes to classic muscle cars. With classic muscle cars (those manufactured before 1979) the value increases over time. When one of these beauties are well taken care of and have a clean record, the price is the highest anyone is willing to pay for it.
You can hold history in the palms of your hands
Classic cars live a whole lifetime before they come to you.
Think about the first ever Oldsmobile Rocket 88. It was considered to be inspired by the modified cars that moonshiners used during prohibition in the 20s. They needed faster, stronger cars that could handle a fair deal of cargo. As prohibition came to it's inevitable end, the moonshiners used their modified cars to dominate the street races.
When the people saw those beautiful machines ripping past at unimaginable speeds, everyone wanted one. And so began the age of the muscle car.
Wouldn't you like to own a little piece of history as rich as that? I know I don't mind feeling like I can brush shoulders with that kind of badassery, even if it is just in a metaphorical sense.
Forget the Registration Fee
Little known fact: cars built before 1973 can be registered as 'historical' vehicles.
This not only lands you free registration, but you can get a specialized antique licensed plate.
The only catch is that using an antique or historical license plate may restrict your use of the vehicle to historic events, parades and other things like that. You can get a ticket if you use the car regularly, but I do know plenty of people that drive their classic muscle cars on a regular basis that have never been stopped.
It's a jaw dropping conversation starter
Driving a pristine, well kept, classic muscle car is quite the experience. When you're sitting in an incredible piece of machinery like that, you're guaranteed to feel like a million bucks.
Anywhere you go, all eyes will be on you and your car. I've never had any difficulty finding it in a parking lot, and I seem to make friends everywhere I go when I'm in it. Die hard auto addicts and everyone else loves a good classic car. You'll find all kinds of interesting people striking up conversation with you because of it.
Besides, it makes you look even cooler for having good taste in cars as well as an appreciation for history.
It's a hobby, not an investment
While a great classic muscle car can be worth twice its current value in the next five years, that shouldn't be the priority.
Owning and taking care of one of these is like eating soul food. You will notice from the moment you take it for a spin for the very first time. The sight of a beautiful car has a pretty magical effect on people. You will notice that people smile at you, they might tip their hat to you, they'll want to approach you and get to know you, all because of beautiful car you are driving. Owning a classic muscle car is a testament to your personality. It shows people that you are unique, that you have something about you that may just be worth getting to know.
Don't even get me started on the feeling that will come over you when you spend time taking care of it. I imagine it's something like what some women feel when they're shopping. Whether you take care of the car on your own or with company, the feeling of washing it is better than therapy.
Different people have different ideas of what a classic muscle car is, hell, there seem to be as many different dictionary definitions as there are models. But some things that seem to be included in all of them are that they are fast, they are powerful, and they are beautiful. They're hard not to love and, if you decide to take the leap, you'll definitely fall in love with it too.
Donate To Fast Muscle Car
We spend a lot of time bringing you muscle car content. If you would like to donate something to help us keep going, that would be fantastic.
5 Reasons Classic Muscle Cars are Better Than New Ones

,