Best Muscle Cars
5 Great Tips for Finding Your Ideal Classic Muscle Car
By
|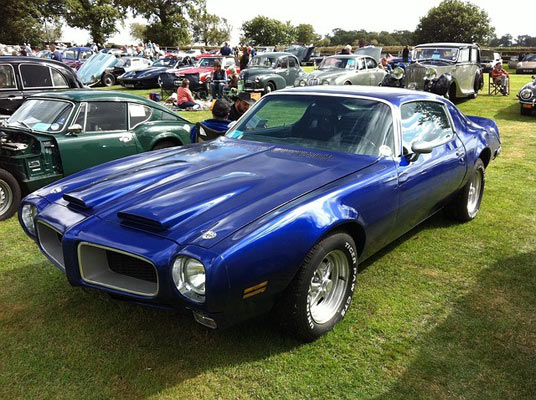 By Andy Dent
For all classic muscle car enthusiasts (myself certainly included), you can't quite put your finger on it. Is it the sense of history? The investment opportunity? Or is just plain and simple love? Whatever your reason for making these high-powered, distinctive automobiles your growing life's passion (my love affair began many, many years ago), it cannot be denied. Classic muscle cars are exactly what they say they are; powerful, majestic machines. Owning one of your own ticks all the boxes for many  keen enthusiast. No longer just a classic muscle car show spectator, you are now an exhibitor. You're an interesting person to shoot the breeze with because your muscle car is one hell of an icebreaker. You practice self-help therapy – evenings and weekends see you waxing on, waxing off, every wonderful bodywork detail. You're an investor too – your car is a historical piece and gains value over time. And, in addition to all of these reasons, you just can't help but smile when you see your classic muscle car parked on your driveway.
Classic cars are used cars, plain and simple. So how can you find that perfect classic muscle car that is just for you? Is it a little bit more than just hitting the local used car ads? You bet it is. Here are 5 top tips for finding your passion's object of desire, your ideal classic muscle car:
#1. Decisions
Before you even start looking, you need to ask yourself some all-important questions. You don't want to be taking on something you simply can't afford, or be throwing your money away. Check the insurance costs of your desired model. In fact, check that insurers are happy to insure such a car. Insurers may want to stipulate certain terms and conditions in order to cover themselves. Does this present a problem with what you want to do with the car further down the road? For example, garage storage may be a stipulated term that may invalidate your insurance if not complied with. Your dream classic muscle car can begin to look like a pipe-dream when high premiums are factored in. Better to be prepared.
You also need to decide if you want a pristine example of your chosen car or you're happy with one that requires a lot of restoration. With most muscle car enthusiasts, it's somewhere between the two. If you're planning to restore, you need to look at part availability and price.
What's the classic muscle car for? Is it to restore and sell? Or will it become a permanent member of your family?  If it's the first one, you really do need to look at the costs you will face when restoring. You also need to be sure you actually have the time to do it.
#2. Research
Researching the price you're going to have to pay for your used classic is the first real step that you have to take. Once you have that information, you can tell if a car is overpriced (the current owner's hoping you haven't done your homework) or under-priced (this current owner knows there is something seriously wrong with the car, but is definitely hoping you're going to be swayed by the cheap deal). Either way, knowledge is power – for you.
You've sourced a potential. Get a mechanic to give it a full inspection. Even better, you may know a more mechanically-minded friend with classic car experience. Get them to join you on your search (just pay for the beers later).
#3. Haggle
Yep, plain and simple – haggle. Is the seller looking for a quick sale? Are others interested? Use this to strengthen your bargaining position. Remember, not many people can look away from good, cold hard cash.
#4. Cash
If you're able to do it, and you really want that classic car, pay the whole lot straight away in cash. Not only does this significantly improve your previously-mentioned bargaining position, it makes the seller much keener to sell to you. No instalments to worry about.
#5. Start Your Engines
You're now armed with some essential tips for getting on track to your ideal classic muscle car. If this article has inspired you to begin your search, you've just made me a very happy man. And a very happy classic muscle car-lover. As thanks, here are some extra tips for the uninitiated:
It's going to cost you some serious hard-earned dollars if you want to be seen driving a beautifully restored Camaro or Mustang. Think about buying a model from the less popular years of manufacture – you will save money.
If it's your first project, as it were, Austin Minis are a great place to start. Inexpensive to buy, with replacement parts to match.
Check out these classic car finder websites: Auto Trader Classics, Classic Cars or Hemmings (if it isn't on these, it's not for sale).
If you need help pricing up particular models, check out the North American Dealers Association (NADA).
Hopefully, you are now inspired and this article has whetted your appetite. From deciding your motivations for owning a classic muscle car to viewing, negotiating and paying for one, this article has you solely in mind. If you have any other tips you'd like to share with your fellow readers, please feel free to comment below. Before you know it, you, too, could be looking out of the window at a piece of heaven parked on your driveway.
Donate To Fast Muscle Car
We spend a lot of time bringing you muscle car content. If you would like to donate something to help us keep going, that would be fantastic.
5 Great Tips for Finding Your Ideal Classic Muscle Car

,