American Muscle Cars for sale
Chevy Nova for Sale
By
|
[button color="red" link="http://cgi.ebay.com/ebaymotors/1967-Chevy-Nova-Hardtop-Fuel-Injected-377-Stroker-4-Speed-Disc-Brakes-Video-/141086792266?forcev4exp=true" target="_blank"]Chevy Nova for Sale on Ebay.com[/button]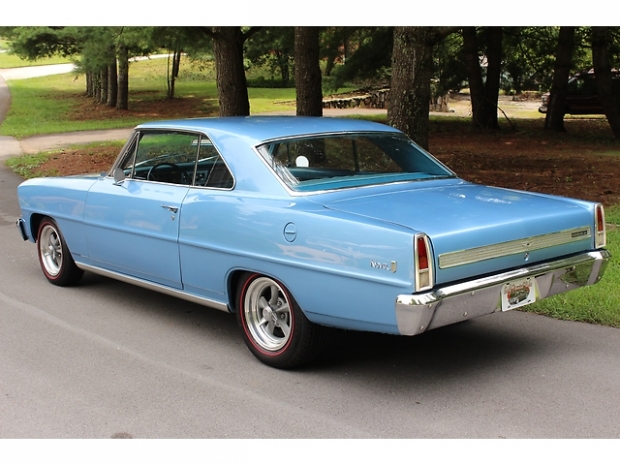 1967 Chevy Nova Hardtop Fuel Injected 377 Stroker 4 Speed
Up for sale wehave a 1967 Chevy Nova Hard Top. This was the last year for this body style and not a lot changed from the '66 model. There were changes made to the grill and headlight trim is the most noticeable. The one we have for you has had a lot of money spent under the hood with a 377 Stroker Motor and a 4 Speed Trans. In the paragraphs to follow we will give a brief description of the exterior, interior, and heartbeat of the Chevy, but first we would like to tell you a little about us.
Smoky Mountain Traders is a classic car dealer in east Tennessee. We are family owned, operated, and own our entire inventory, no consignments, and only deal in muscle cars and vintage auto. You can count on us to have 50 to 60 cars at all times. We don't have a big show room that our customers would otherwise pay for. So, that's how we can sell for less than other dealers. To contact us for more information, pictures, or any questions call our office at (865)988-8088 or visit our SmokyMountainTraders website.
We will start off with the exterior of the Nova. The body is straight as an arrow and it is a hard top. The lines are good as well as the gaps. It's all covered in the Marina Blue paint that has a deep rich shine. When you look at the chrome it's good just not new and the same goes for the stainless. It appears to have new weather stripping. The glass all looks good as well. The final exterior touch is the of American Racing Wheels with Red line Tires.
Next, we will take a look at the interior of the '67. It's all done in blue that provides an excellent complement to the exterior scheme. It appears to have the correct seats and covers. The seats and door panels looks good. As for the carpet and headliner it appears to be new. All the metal inside is done in the matching Marina Blue. The dash looks correct with only a radio change and a set of under dash gauges. The steering wheel was upgraded to a sport grip wheel. This Nova appears to have new seat belts and if you look even the dome lite still works.
Finally, we will take a look at the heartbeat of the Chevy. It's Powered by a 377 Stroker that is mated to a 4 Speed Trans and a 10 Bolt Rear End. The engine has scat Rod, comp hydraulic Roller Cam and lifters. Also it has Forged Pistons and Edelbrock Heads and Intake. It has the Fast EFI System with chrome valve covers and breather. The ignition was updated to MSD. This Nova Has Disc Brakes and Manual Steering. When you look under it the bottom looks good with good front and rear sub frame.
If we can help you in any way with questions or a specific picture, you can call our office at (865)988-8088. Or feel free to call Daniel at (423) 807 0600, Devvin at (865) 256 2366, or you can e-mail us at smokymountaintraders@yahoo.com.
Chevy Nova for Sale

,